World Cup
What Optus Sport have done right this World Cup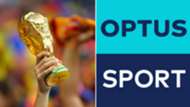 While technical issues plagued Optus Sport's initial World Cup coverage, the broadcaster has done a lot of things right over the past month.
After a season of much-improved Premier League coverage, Optus were hoping Russia would allow them to fully win over Australian football fans with reported plans to further expand their coverage of the round ball game Down Under.
Unfortunately, things didn't go to plan as early technical issues made viewing the World Cup a painful experience for some fans after four years of waiting.
For those working at Optus Sport, the technical issues were largely out of their control and it left them just as disappointed as fans wanting to watch at home.
"To be honest the most difficult thing was just knowing that football fans were struggling to access the platform - it's not about us or our feelings, it's about our customers and we're really disappointed that some couldn't get in to watch," Optus Sport's supervising content producer Aaron Lea told Goal.  
"We owned the problem early and fixed it quickly so I hope those that had issues have had a chance to come back to see what we're about."
For those that have come back, they will have found a polished product that doesn't deserve to be tainted by technical problems that have by all reports been fully addressed. 
All-star panels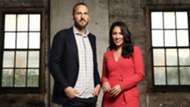 From former Socceroos like John Aloisi, Tony Popovic and Ljubo Milicevic to current players like Alex Wilkinson, Luke Wilkshire and Chris Ikonomidis - Optus spared no expense when it came to getting some big names on their panels.
Steering the ship has been Mel McLaughlin, who Australian football fans have been dearly missing, with her genuine passion and knowledge of the game managing to shine through even at the most ridiculous hours. 
Mark Schwarzer and Michael Bridges have then been filling in admirably as co-hosts to round out what have been regularly insightful panels.
"We really just wanted to have as many football voices on our shows as possible and show some diversity in opinion and analysis," Lea said.
"We've had around 35 guests so far - in Sydney we've had Matildas and former Socceroos totalling over 500 caps, and in Russia our guests have been the likes of Hernan Crespo, Luis Garcia, Phil Neville, Lothar Matthaus and Christian Karembeu."
Mini matches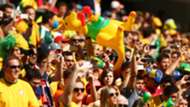 Haven't got time for a full game or not prepared to sit through the entire offering of a dead rubber between Panama v Tunisia? Then Optus Sport have the answer for you.
While one to two minute highlight packages have been around for awhile, Optus Sport have introduced 'mini matches' for this World Cup with each match put together in a more encompassing 23-minute package.
Though nothing can ever truly replicate the drama of a full football game, these mini matches have been a welcome supplement for football fans short on time but hungry for more action.
The group stages in particular made mini matches an ideal way to catch up on games and Lea revealed they could be introduced for next season's Premier League.
"The mini matches have been something we've wanted to do for a while and had a feeling there would be an appetite for it based on some comments on social we've seen over the past two years, he said.
"They have certainly been well received and we are hoping we can roll that into the 2018/19 Premier League season."
Sharing the coverage with SBS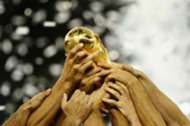 Optus acquired the full rights to the World Cup from SBS a few years ago with the free-to-air broadcaster left to show just 25 games as a result.
But after initial technical difficulties, Optus opted to share full coverage with SBS - who themselves must be praised for embracing it as they have on short notice.
The decision to team up wasn't as simple nor as straight forward as it may seem and Optus put commercial realities aside to ensure football fans could enjoy the World Cup the way they wanted.
The telco have also done a good job of trying to make amends with their customers by offering refunds, free mini fetch boxes and even making the Optus Sport service free for the next month. 
For employees like Aaron, they aren't letting the hurdles of the past few weeks stop them as they strive to ensure Optus Sport can strike a chord with Australian football fans. 
"I am optimistic about Optus Sport covering football into the future," he said.
"We have a really passionate team who are all massive football fans, trying to deliver football in a completely unique way and are absolutely committed to getting it right.
"You have to remember we only set up two years ago, and I think we're rapidly pushing the boundaries and delivering a really comprehensive content offering."