African All Stars
What next for Sunday Oliseh?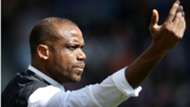 ---
COMMENT    By Solace Chukwu    

Follow on Twitter
---
In the classical sense, a man's hubris is to function as a natural check. There is a place in the world for everyone, and a station above which, try as one might, he may not ascend.
What makes it so cruelly ironic is that hubris often disguises itself to its owner as a strength. So it is that Sunday Oliseh, a man who seems almost destined to blaze a trail, has once again contrived to trip himself up.
The details of his messy divorce with Fortuna Sittard are still unclear, couched as they now are in cautious legalese. This, following Oliseh's imprudent tweet alleging "illegal activities", threatens to blow up even further and have far wider reaching repercussions than is presently apparent.
What no one is, though, is surprised. Well, the fact of his sacking is a surprise on the surface, considering how well Fortuna have done under his leadership. The manner and reason though, elicit merely resigned recognition.
I confirm: Due to my refusal to participate in Illegal activities at Fortuna sittard & violate the Law,i have been Suspended from my duties as Coach by the Foreign Owners of Fortuna.Unfortunate for the lovely fans, my players & our hard fought phenomenal positioning for Promotion

— Sunday Oliseh (@SundayOOliseh) February 14, 2018
The former Super Eagles captain and coach has already demonstrated his intelligence by treading where most of his peers have not. He is ambitious, suave and savvy, by all accounts, and on the evidence of his work in the Netherlands, he is a talented trainer.
His work will be resonant at modest Fortuna for many years: taking a team of 21-year-olds to the dizzying heights he did means that, whether or not promotion to the Eredivisie is achieved, there will be a boost to the club financially from player sales. Already, the highly rated defender Perr Schurrs has transferred to giants Ajax.
For all that he is though, what Oliseh is not is measured or smart in picking his battles. He wasn't while in charge of the Super Eagles, and he isn't now. His football is essentially structured, and that lack of flexibility is simply a manifestation of the character of the man.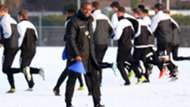 Why this is relevant is that the immediate question of what is next for Oliseh comes up.
In the sort of world which he seems to believe exists somewhere, his accomplishments so far with so little would mean he is likely to be snapped up higher up the food chain pretty soon, irrespective of his personality flaws. There is, after all, a level of acceptance for a carping grouch like Jose Mourinho, who is so manifestly good at winning football matches.
To expect this though ignores the peculiarity of the situation, one which is simply beyond the fact he still has not won something truly definitive (a Period title is enough of a novelty that it cannot honestly have much weight in the arena the 43-year-old would wish to play).
The fundamental truth that seems to elude many is that Oliseh is not the norm: Africans simply do not get jobs coaching in professional European leagues, and while some of that might be traced to insidious racism, another reason is the perception that they can be difficult to work with.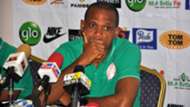 By the latest falling-out, he has managed to prove the perception correct. It will be difficult for a major club to trust a man most will perceive as a loose cannon. Not only that, but by his poor judgement, he has probably ruined it for everyone else.
Whatever the truth is regarding the allegations Oliseh has made, the messy nature of the separation is bound to rub off on his career prospects going forward.
Simply put, he cannot win: if he is right, his righteous imprudence is unlikely to earn him points in football's cutthroat landscape; if wrong, he is perceived as both sour and, even worse, a liar.
His insistence on using social media platforms to preempt perceived slights or to hit out at criticism is also baffling, and doesn't paint a pretty picture either.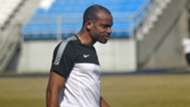 It is, in fact, one of the many accusations leveled against him by Fortuna; his eagerness to get a word in and turn it around on the club has ironically led him to justify their reasoning.
He simply seems to lack the maturity required.
The moment the tweet went out, it was clear there would be legal proceedings instituted against him. If he did not know that, then perhaps he does not understand how social media works.
Or, for that matter, the world. It may be that he is in fact speaking right, but just like when he quit Nigeria, he has picked everything else wrong: timing, manner and even medium.