Western Sydney Wanderers
Western Sydney Wanderers lacked belief against Sydney FC - Markus Babbel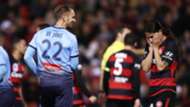 Western Sydney Wanderers coach Markus Babbel has criticised his team's mentality following their 3-0 loss to Sydney FC in the FFA Cup semi-final last weekend.
The red and black were dominant in the first half but failed to take advantage of their opportunities, before a brilliant assist and solo free kick from Sydney FC marquee Siem de Jong established a two-goal lead half through the second period.
Babbel says his players didn't believe they could draw or win after they went two goals behind - and as a result an Adam Le Fondre penalty finished the game off with 15 minutes to spare.
In his short time as manager, the German feels as if the player's mental state in certain stages of the game is the most important issue he needs to correct.
"We created good chances to score - but we couldn't score. Especially after the [score became] 2-0, our mentality was down," Babbel told Omnisport.
"They were fighting but their body language shows me we were not believing that we could change the game. There is a half an hour to go, if you score one [goal] then the opposite side has something to lose.
"We have to believe we can score goals, we can play a draw or maybe win the game. The believing wasn't there.
"This is the point I knew before - we have to work on our mentality. I think this is the biggest weakness we have."
Babbel has a little over a week to work on the psychology of his players before they open their A-League campaign on October 21 away at Perth Glory - who are managed by former Wanderers coach and club legend Tony Popovic.