World Cup
'We want even more England fans to come to Samara' - Tourism chief unconcerned about hooliganism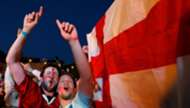 England fans are being encouraged by Russian officials to come to the World Cup in even bigger numbers following the Three Lions' penalty shootout win over Colombia .
Gareth Southgate's side squeezed past the South American side thanks to an Eric Dier penalty and they now face Sweden in a quarter-final clash in Samara's Cosmos Stadium on Saturday .
Mikhail Maltsev, the Head of the Tourism Department in Samara region, says that England fans and all other groups of supporters have behaved well in Russia's World Cup. Maltsev wants to see more England fans visit the area for the last eight clash.
"Quarter finals will surely attract a lot of attention and we hope that more England fans will come to our city," Maltsev told Goal and Omnisport . "According to the numbers we got from the group games there will be 3500 England fans. I don't think we have to worry about that at all.
"We've created very safe comfortable conditions in Samara. Our city is beautiful, our people are friendly and hospitable. I am sure that England fans will love it here. So being in these comfortable likable conditions they won't have any reasons to be aggressive or judgmental about anything. They will love the holiday and ongoing festival that we have created here."
Following tension at Euro 2016, there were some fears that fans from several countries at the World Cup, including England, could get into violent clashes with each other and local hooligan groups.
However, Russia's organised ultras groups have been warned of severe consequences if they are caught causing trouble at the showpiece event, with Russian president Vladimir Putin holding a keen interest in hosting a successful world event.
Krylya Sovetov, Samara's local team, has seen the leader of their far right ultras group T.O.Y.S. given a six-and-a-half year suspended sentence in November. Yevgeny Gavrilo was accused of planning to disrupt World Cup events in Samara in 2016 by Russia's General Prosecutor.
Maltsev adds that he thinks that the plans have already proven to be successful as he quashes any concerns that England's fans could be involved in clashes in Samara.
"During the entire World Cup we have had the highest level of security and safety measures set all around the city," he added. "There won't have any extra safety measures taken, since we can see that the ones we already have are working perfectly. The lack of any incidents during the matches is the best proof of that.
England fans have bought 34,235 tickets so far for this World Cup, putting them in the top 10 for tickets purchased. The country had only a slight increase in ticket interest for their last-16 win with the process of improptu travel to Russia being made difficult due to lengthy processes of securing visas.