KPL
Vihiga United calls for patience after a poor start to the season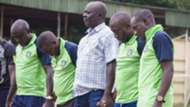 Vihiga United has called for patience even as the newly promoted side continues to wait for an elusive win.
Vihiga United have found it tough since their promotion to the Kenyan Premier League last season.
The National Super League champions are yet to register a single win in six games, but assistant coach, Francis Xavier is strongly convinced that the result will start trickling in once the injured trio resume duties.
"It is important to be patient, though I must admit the result is not good enough.
"We have a good team, the only challenge is with our finishing and once we sort out that, then the result will start trickling in," Xavier said in a phone interview with Goal.
Vihiga United have missed the services of midfielder, Charles Okwemba who was joined in the injury list with Christopher Masinza and Martin Imabalambla.
Okwemba is expected back next week, but the coach said that the player will not be rushed back to the squad.
"I can say that Okwemba's absence has contributed to our poor performance because he's a great player who knows how to calm down other players when we are under pressure.
Vihiga have only scored three goals in six games, conceding six in the process.
Edward Manoah side are currently 16th on the log with four points.