Videos
VIDEO: Touzani meets De Bruyne in freestyle challenge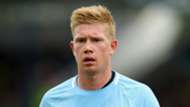 Manchester City star Kevin De Bruyne went head-to-head with freestyler Soufiane Touzani for a number of challenges. 
The Belgian international joined the YouTube star for a few juggling challenges, and even took part in an extra-difficult challenge involving a drone!
You can check out the full video below, or head to Touzani TV for more top videos.