World Cup
VIDEO: The religious influence of Messi and Salah in Russia
Star footballers are often worshipped like deities by adoring fans and Lionel Messi and Mohamed Salah are among the biggest stars in the game currently. 
It is no wonder to see them find a place in a prominent 'temple' in the Russian city of Kazan.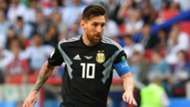 The World Cup fever has gripped the country and even though Salah's Egypt and Messi's Argentina have not had the best of starts, the two forwards are revered. Messi has been a talismanic presence for his team while Egypt's hopes rested solely on Salah's shoulders and his fitness was one of the reasons the country were knocked out of the World Cup early.
But it has not stopped the Liverpool forward from making his impact at the World Cup. 
Kazan has a 'universal temple' for all religions and murals of Salah and Messi have been installed in front of it. Interestingly, creators of the artworks were not followers of the sport but they admit now that they have started following Salah and Messi.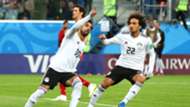 So much so that they have started cheering for Egypt and Argentina. 
Stasya Kuchumova, one of the creators, said, "Honestly, before we started to make this painting, I didn't follow football at all. But since making it, we have started following Messi and Salah. Now we are fond of both the players and we are supporting their teams as well."
After all, football is a 'religion' the world over.