Real Madrid
Video: NIVEA MEN - Isco Alarcon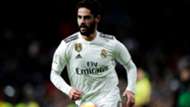 "Thank God Isco is Spanish, we can all enjoy him for the national team", were legendary Spain striker David Villa's words as he described the incredible Real Madrid and Spain international, Isco Alarcon.
Isco is one of the Real Madrid Stars featured in the NIVEA Men TV advert
Isco had just left the pitch to a standing ovation having put La Roja in charge with two ferocious strikes in the first half, one from a free kick, the other a dribble followed by a low shot which whistled past Gianluigi Buffon.
Isco's irresistible performance in his side's 3-0 World Cup qualifying win over Italy in September last year had left former Malaga and Barcelona striker Villa in awe.
"I have known Isco for a long time, since he was a child, and came to train with the Valencia first-team. He is a world class player and he will continue to be as he is still young and can keep improving," Villa added.
Villa was not the only Spain legend stunned by Isco's talent. Madrid and Spain legend, Fernando Hiero also said it only took him 10 minutes to see everything he needed to see in a player when he watched Isco as a 15-year-old at Benalmádena
"It's difficult for me to give my opinion on someone I met when he was 15 years old. I went to La Rioja to see him play because I had been told that at Valencia there was a boy from Benalmadena (Malaga) with incredible talent. Normally you arrive and you ask yourself, 'Where is the talent here?' But after just 10 minutes of seeing him play, I left the pitch. I had already seen everything [he could do]."
That is the impression that the former Valencia man continues to make, not only for Spain but also for Los Blancos. 
Zinedine Zidane was forced to make a tactical formation change as he could no longer ignore Isco. Isco adapted gradually to his role, balancing the need to cover defensively but also maintain a central presence in attack, contributing 10 goals and eight assists in 30 La Liga matches as Madrid cruised to their 33rd title in the 2016/2017 campaign.  
He also featured six times and scored once as Zidane's men defended the Uefa Champions League title.