Premier League
VIDEO: Cech dishes out a straight red card as Arsenal stars become referees for the day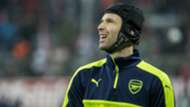 Prepare to see three of Arsenal's star players like you've never seen them before.
Why Ozil needs a manager like Mourinho
Petr Cech, Olivier Giroud and Nacho Monreal got a first-hand experience of what it's like to be a referee when they became match officials for the day.
More accustomed to arguing against decisions than actively making them, the Gunners trio took charge of an amateur match and weren't shy in making big calls and dishing out cards.
@_OlivierGiroud_, @PetrCech and @_nachomonreal… refereeing?

See more with @Betfairhttps://t.co/r6vwO5YkCE
#BackTheWhistleBlowers pic.twitter.com/YZNgi0fcH4

— Arsenal FC (@Arsenal) March 2, 2017
Giroud starts off by awarding a questionable penalty, that's subsequently skied miles over the bar, while Monreal awards a free-kick for a late challenge that leads to a superb goal from the resulting set-piece.
Czech Republic goalkeeper Cech, meanwhile, showed his refereeing nous as he allowed an advantage that saw a goal scored soon after, while he dished out a red card for a deliberate handball on the goalline.
Wenger warns Arsenal over Chelsea
Arsenal are back in Premier League action on Saturday when they face Liverpool at Anfield looking to stay in the hunt for a top-four finish.