Transfers
Vertonghen calm over future of Tottenham partner Alderweireld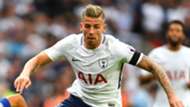 Jan Vertonghen insists he holds no concerns over the future of his Tottenham centre-back partner Toby Alderweireld.
Alderweireld has yet to sign a new deal at Spurs, with his current contract set to expire in 2019. While that deal contains a one-year extension clause, it also holds a release clause of £25 million that will be activated next summer.
Speculation has subsequently intensified surrounding the Belgium international's future, with several reports claiming that Spurs intend to receive the best deal possible for the player this summer, with manager Mauricio Pochettino rumoured to have approved his sale amid links with Manchester United, Paris Saint-Germain and Chelsea.
However, Vertonghen, who has played alongside Davinson Sanchez for the majority of the campaign, insists he is calm over the prospect of Alderweireld leaving, having played with him at Ajax previously.
"Whenever we play we understand each other," Vertonghen told Sky Sports News. "When I left for Tottenham, Toby left for Atletico [Madrid] and Southampton but we found each other quite quick after that, so no stress.
"We've been playing together for a long time and we know how to play together, but I don't want to speak about this because it might sound disrespectful to whoever is playing next to me or next to Toby in other situations."
Vertonghen and Alderweireld will come up against their Spurs team-mates Dele Alli and Harry Kane this summer, as Belgium face England in a World Cup group also featuring Panama and Tunisia.
And Vertonghen believes Belgium need to start succeeding at international level, such is the level of quality within their squad.
"You speak about that peak here at Tottenham and it is even more so at Belgium, especially defensively," the 30-year-old added.
"I am one of the youngest! We have players like [Vincent] Kompany, [Thomas] Vermaelen, myself and Toby Alderweireld who are around our 30s, when you should be at your best. I think we are now.
"This could be the year where we need to reward ourselves. We have had great compliments before and now everyone knows what we can do. With Kevin De Bruyne, Eden [Hazard] or all the other guys where we are at, we should reward ourselves."