UEFA Champions League
Verratti doubts accusations of match-fixing in PSG's mauling of Red Star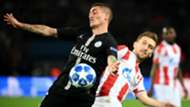 Marco Verratti doubts that there was any presence of match-fixing during Paris Saint-Germain's Champions League clash with Red Star.
The Ligue 1 title holders collected a convincing 6-1 victory during a clash in the French capital on October 3.
Thomas Tuchel's side dominated throughout, with Brazilian superstar Neymar netting a hat-trick as Edinson Cavani, Kylian Mbappe and Angel Di Maria also got in on the act.
It emerged afterwards, in reports from French publication L'Equipe, that a Red Star official was suspected of betting €5 million on his side losing by five clear goals, with an investigation into the allegations opened by France's National Financial Prosecutor's office (PNF).
Verratti, though, claims to have been given no indication of any wrongdoing, with the Italian midfielder telling reporters after figuring in a 1-0 win for his country over Poland: "We did not feel anything.
"I do not think that is true.
"We put in a great performance and it is not the first time that we have won by five goals. Last year, we won by five goals on many occasions. These are somebody else's problems - we are not interested in them."
Red Star have since released a statement vehemently denying the accusations and demanding an UEFA investigation into the matter in order to clear the club's name.
"FC Red Star with the highest anger and abomination rejects the story L'Equipe published today about suspicious result of the PSG vs Red Star match and involvement of anyone from our club in possible wrong doings," the statement read.
"The article can harm and bring big damage to our club's reputation and that is why we insist that UEFA and investigators in Serbia and in France investigate the whole story and get the truth."
"Today's technologies and other mechanisms are so improved that it is basically impossible to leave this case unsolved. FC Red Star expects to get the truth at short notice and remove any doubt about our involvement in possible wrongdoing."
Responding directly to L'Equipe, honourary Red Star president Dragan Dzajic told the publication: "This is the first that I have heard of it. I know absolutely nothing about this. It is not possible. It is untrue!"
PSG have also expressed surprise and anger over the allegations, and reaffirmed their commitment to the integrity of the sport.
"It is with utmost amazement and indignation that we have learned of the information that you have shared," PSG said in a statement to L'Equipe.
"At no time has a member of the club been asked to discuss any matters other than those strictly related to the organisation of the match, namely meetings, visits & other standard lunchtime protocol in the build-up to Champions League matches."