Manchester United
Veron praises Man City as he gives verdict on Man Utd struggles under Mourinho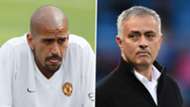 Juan Sebastian Veron has claimed Manchester United have struggled to move forward ever since Sir Alex Ferguson left the club, highlighting Manchester City's progress in that time.
Mourinho's men have made an inconsistent start to the 2018-19 season and are down in eighth place in the Premier League table, 12 points behind City following the 3-1 derby defeat at the Etihad Stadium.
A surprise 2-1 win over Juventus has put them in a strong position in Champions League group H, however, where victories over Young Boys and Valencia would see them qualify for the last 16 of the competition.
And Veron believes Mourinho may well be the right man to turn things around at Old Trafford, but concedes that his former side have found it tough ever since Sir Alex Ferguson's retirement at the end of the 2012-13 season.
"Mourinho is a great manager, for me he really is," Veron said at Soccerex USA. "However, I think United have struggled to find the proper replacement following Ferguson's retirement. Mourinho is a great manager, he's doing his best at United.
"Maybe he is the right one, but after all Ferguson achieved at the club he is going to need some time in order to implement his idea.
"The departure of Ferguson had a really bad impact on them. They have not been able to find their way yet, having made a few changes already.
"Manchester City have found an idea in terms of football while United, following Ferguson's departure, have struggled to do so.
"But they are a big club so hopefully they'll find their [football] idea in the future."
Veron spent two years at United, where he won the Premier League title in 2002-03, before making the move to Chelsea in 2003.
He also reflected on former team-mate at Stamford Bridge Joe Cole's retirement from the game, insisting he was an "extraordinary player".
He added: "He was extraordinary, a fantastic player. A couple of years ago I met him here in Orlando and we talked about his career.
"I wish him all the best in his retirement. He was an extraordinary player."
Next up for United is a Premier League meeting with struggling Crystal Palace as the Red Devils look to get back on track following the defeat at the hands of Man City.