Transfers
Varela planning to discuss Manchester United future with Mourinho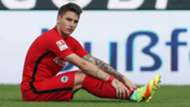 Guillermo Varela says he will discuss his Manchester United future with Jose Mourinho at the end of the season when his loan deal with Eintracht Frankfurt expires.
Who could break Pogba's record?
The full-back was brought to Old Trafford by David Moyes, the Scot's first signing for the club, but has struggled to make any impact on the Premier League side.
The 23-year-old was sent on loan to Eintracht Frankfurt this season but has endured an injury nightmare, tearing ankle ligaments in only his third game for the Bundesliga side.
After a long spell out, involving surgery to remove a screw in his ankle, Varela returned to action but has struggled and subsequently underwent further surgery.
Varela is hoping to return to action soon and admits he is unsure where his future lies but is simply focusing on returning to action after a frustrating spell.
Milan fury only adds to Juve controversy
"I don't know so far," he told MEN Sport when asked about his Manchester United future.
"The most important thing for me is to get back 100 per cent to play until the end of the season.
"Then we will sit down together to see what's best for the club and myself. Then a decision will be made."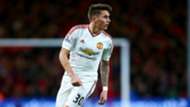 Varela also revealed why he had opted to spend another season out on loan, having played for Real Madrid Castilla under Zinedine Zidane during the 2014-15 season.
"I talked to Jose Mourinho and we talked about my future and what would be best for me," he added.
RUMOURS: Man Utd plot Alexis move
"He was very sincere towards me. He told me my playing time would be little so my decision was that I preferred to go.
"A player needs to play and this is what I'm looking for and this is what I sought here in Frankfurt."
Varela spent time training with Manchester United last summer before heading to Frankfurt and was impressed with Mourinho's methods.
Klopp: We could miss Champions League
"I really learnt a lot from the way he trained - the ball was always in the centre of the exercises," he explained
"The relationship was very good and I was pleasantly surprised. Maybe I expected his character when he is confronted with the press, but that was definitely not the case.
"He's always asking how everyone feels, making no difference between Rooney or a player who has just come up. He was always joking and ensuring he had a good connection between everyone and himself."