Bundesliga
U.S. coach Arena was in contact with Pulisic during Dortmund explosion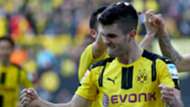 U.S. coach Bruce Arena was in contact with Christian Pulisic after Borussia Dortmund's team bus was rocked by an explosion on Tuesday. 
Pulisic was on the Bundesliga club's bus when three bombs went off as it left the hotel for Signal Iduna Park, ahead of the Champions League quarterfinal first-leg match against Monaco. The 18-year-old was not injured during the incident.
Arena: U.S. can win 2026 World Cup
"We've had contact with (Pulisic). I actually left him a message today," Arena told reporters on Thursday. "I haven't personally spoken to him but we had contact with him through texts, during the incident, after the incident. He's OK."
Spanish defender Marc Bartra was the only Dortmund player injured by the blast. He had surgery on a broken right wrist and could possibly miss the remainder of the season, although the team expects him to only miss four weeks of action.
"I don't know the exact circumstances around the bombs going off and all of that, but I'm sure it was very hectic, very scary," Arena said. "I'm sure it disrupted the team in a lot of ways. It's never easy, hopefully in time all those people will recover. It's unfortunate that they lost a player to that as well. I think they're all OK, and Christian's fine."
After the match was postponed until the next day, Dortmund was a little shaky on the pitch, losing 3-2 at home to Monaco. Pulisic came on as a substitute at halftime.