Kaizer Chiefs
Two arrested following violence at Moses Mabhida Stadium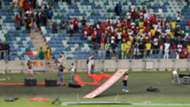 According to reports, two arrests have been made in conjunction with the violence which had erupted at Moses Mabhida Stadium following the Nedbank Cup semi-final between Kaizer Chiefs and Free State Stars on Saturday evening, with more arrests believed to be imminent.
In what can only be described as a dark night for South African football, fans stormed the pitch following the final whistle in hope of forcing the resignation of head Steve Komphela. Several scuffles ensued and broadcasting equipment destroyed as security personnel were overpowered. Several fires were also started in the stands leading police to utilise stun grenades to disperse the crowd.
Nonetheless, police have confirmed that two suspects were taken into custody and will appear in the Durban Magistrates Court on Monday.
"Police were forced to use stun grenades to disperse the unruly crowd. Two suspects aged 27 and 33 were arrested for public violence and malicious damage to property. Police received reports that people were injured during the incident," police spokesperson Captain Nqobile Gwala told the Daily News .
Meanwhile, in a rather horrific video circulating on social media, a security guard reportedly female, can be seen being beaten by a group of fans in the middle of the pitch, rendering her unconscious. Reports doing the rounds suggests that she may have potentially passed on due to her injuries but police have not been able to confirm whether or not she had indeed died.
However, other reports have since confirmed that the person in question is seriously injured but stable. 
"She is in hospital. She is seriously injured but stable," Crisis Medical spokesperson Kyle Van Reenen told News24 .
This is the second case of spectator misbehaviour in a space of just a few weeks for Amakhosi. Chiefs were most recently sentenced to a fine of R250 000 of which R200 000 was suspended provided that an incident of that nature did not happen again.
On Sunday morning, the PSL subsequently issued a statement condemning the chaos, but were still awaiting reports from the relevant role players.
"The Premier Soccer League strongly condemns acts of hooliganism and violence that took place at the Moses Mabhida Stadium on Saturday night during the fixture between Kaizer Chiefs and Free State Stars," a statement issued read.
"Hooliganism and thuggery of this nature has no place in football and acts of violence perpetrated by individuals are witnessed last night cannot be tolerated," the PSL added.
"The League will work closely with law enforcement to ensure that those responsible for this hooliganism are subjected to judicial processes. The League is currently awaiting reports from all relevant role players," the statement concluded.
It now remains to be seen exactly what punishment will be handed out to Chiefs. This follows the recent judgement that saw Orlando Pirates forced to play two of their upcoming home games behind closed doors due to similar scenes which happened last year.
You can watch some of the chaos which ensued here: 
Don't let Steve Kompela's resignation distract you from the fact that Kaizer Chiefs fans (mostly men) beat up a female security guard until she was unconscious. #NedbankCup pic.twitter.com/payco4fQPM

— Rohula Black (@RohulaBlack) April 21, 2018