Malaysia U23
TMJ encourages U23 players to accept international offers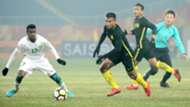 Despite just falling short in the quarterfinal stage of the 2018 AFC U23 Championship, Malaysia Under-23's exploits in the competition have earned rave reviews back home with a large wave of optimism surrounding the players as well as the future of the senior national team.
With many of the players in Ong Kim Swee's squad now ineligible to play in any more under age tournaments, now is the time to find the opportunity to integrate these players into the senior side and give them more exposure.
The performances of the players in a continental tournament have also raised eyebrows of clubs and scouts around Asia as to the qualities of Malaysian players. The likes of Safaw Rasid have received high praise and is rumoured to be interesting clubs from South Korea.
HRH Tunku Ismail Sultan Ibrahim, the president of Football Association of Malaysia (FAM) has expressed his desire to see these boys accept the challenge of overseas opportunities if they come and wants to also see these players be given a chance with the senior national team.
"I hope and pray that they could all play overseas. Whoever gets an offer from a higher league, should accept it, not stay here. So that when they come back, they can serve the national team. These players are the future of the national team. I also hope that coach Tan Cheng Hoe will look at these players and give them a chance to play with the senior team."
"Ong will be sent to Spain in March. For him to improve and learn more about coaching, most probably at Atletico Madrid. There's no plan yet (on Asian Games), I still need to discuss with Ong on what the details are," he said during a press conference held on Wednesday.
The 47-year-old Ong has previously opined that it would be better to send the U19 squad under the guidance of Bojan Hodak to the Asian Games that is scheduled to be held in Indonesia later this month.