Super League
Treacherous KAFA officials are targeting me - Annuar Musa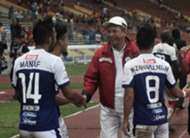 ---
BY        ZULHILMI ZAINAL       Follow on Twitter
---
Kelantan FA (KAFA) advisor Tan Sri Annuar Musa has criticised certain team officials for neglecting their duties, with regards to player movement in the current transfer window.
According to him, these officials have been unaware of the updates regarding former strikers Alessandro Celin and Mohammed Ghaddar, and head coach Zahasmi Ismail.
"Celin's departure has long been planned by KAFA, and he has been notified since April. His agent Mr. Gibby has also been told to find his replacement with the same budget.
"Zahasmi too has acknowledged the change. The candidate for the replacement had to be kept a secret until May 25 2017, our Super League match against Pulau Pinang.
"If anyone thought that I made the decisions on my own, then they are gravely mistaken. The discussions have been conducted together with several KAFA officials and the agents involved.
"The same goes with the matter of the head coach, it was Zahasmi's request. We kept it to ourselves, asked him to proceed and handed the matter to him.
"Even before Ghaddar's departure (to JDT), KAFA's top management, agents and sponsors have discussed the plans for his absence. We have long worked quietly on the plans.
"Only those who have 'fallen asleep' were left behind and grumbled. And not everything we do must be shared with the media," wrote Annuar on his Facebook page on Sunday.
He then slammed unnamed KAFA officials who according him, do not have the association's best interests in mind.
"Only a few are working tirelessly for the Red Warriors. Many are only looking to take advantage while shirking their responsibilities, and have their own (hidden) agenda.
"I have let them be for a long time as football in Kelantan would have not grown if they were to be depended upon.
"They celebrate when the Red Warriors and KAFA are in problem as that is their chance to scheme. If Kelantan succeed they have to hold their tongue and pretend to be happy.
"What they are waiting for is the next crisis so they can sow their seeds, and their real target is me!" claimed Annuar.