Transfers
'Tottenham has given me value' - Pochettino dismisses Manchester United rumours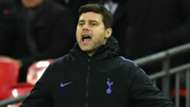 Tottenham manager Mauricio Pochettino has declared himself "happy" with his situation at the club as rumours link him to Manchester United.
The Spurs boss' continued success with the London club has seen him appear in the frame for high-profile jobs, including Real Madrid and with the Red Devils in recent weeks.
But Pochettino has again looked to squash any notion that he is looking for a way out, telling reporters Friday that he feels respected by the club and is "happy" with his situation.
"Tottenham has given me value," he said. "I feel happy here in Tottenham because I feel the recognition for our job. We feel that.
"When (club chairman) Daniel Levy extended my contract for five years, it is because he believed in that moment and period, we are the best people to manage this boat and this club. It is recognition for us.
"I don't need to listen about what goes around. The most important thing is how you are made to feel in your home."
Ahead of Saturday's match against Leicester, Tottenham currently are third in the Premier League with 33 points, but remain six points behind Liverpool in second and eight points below table-topping Manchester City.
Meanwhile, Spurs also are just two points ahead of Chelsea and Arsenal in fourth and fifth respectively.
As a result, Pochettino sees the top four as worthy goal, even if a title chase is not in the cards this season.
"We try to improve but the way that we improve is not in the way of maybe another team," he added.
"That is why our project is to be consistent in many years and try to improve every season, and we will see whether it is enough or not.
"At the moment it is clear that Manchester City is above everyone. It is City again and Liverpool.
"I think the most important thing is to keep going and fighting to be in a good position. Like many clubs say, to be in the top four is a massive success. And for us to be in the top four is more than success.
"I think the first step is to try and be consistently in the top four."