Timothy Howard
Tim Howard: Lack of U.S. passion 'not exclusive' to dual nationals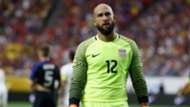 Tim Howard has clarified his apparent criticism of dual nationals under Jurgen Klinsmann, saying a lack of passion was "not exclusive" to U.S. national team players raised abroad.
"Some of them are [dual nationals], but I think others are players who have their roots here in America too," Howard told ESPN on Wednesday. "It's not exclusive to them because some of our dual nationals have been brilliant.
"Jermaine Jones has been a rock for our national team. He's been one of the heartbeats. Fabian Johnson has been brilliant for us. So, no, that wasn't aimed at any one person in particular."
Jermaine Jones signs with LA Galaxy
Howard appeared to critique Klinsmann's reliance on dual nationals Tuesday, saying that "having American roots doesn't mean you are passionate about playing for that country."
Klinsmann fielded numerous U.S. players who had been raised abroad, with Jones, Johnson, John Brooks, Timmy Chandler, Mix Diskerud and Julian Green among the dual nationals representing the country at the 2014 World Cup.
"I know there were players that came in that it didn't matter as much to," Howard told USA Today. "If you get enough of those players, one or two can get found out, but if you get enough of those players you lose sight of what you are all about. While it was a good idea in theory, it had its flaws."
Elaborating on those remarks Wednesday, Howard referred to a more general lack of cohesiveness as Klinsmann's five-year tenure ended in November following World Cup qualifying defeats to Mexico and Costa Rica.
In addition to citing that 4-0 loss in Costa Rica, Howard highlighted the Confederations Cup playoff defeat to Mexico in October 2015 as a match in which the U.S. lacked unification.
"I think any time you have a team that's disconnected — no matter what the issue is that brings that disconnect — when you have that, there's no way you can all be pulling in the same direction," Howard said. "I'm an old man and I've seen a lot of things, and what it seemed like to me was there was a lack of passion and desire by certain players to run through a wall."