KPL
Thika United coach: I never slept before the play-off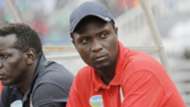 Thika United successfully battled to keep their place in the Kenyan Premier League after a 2-1 aggregate win against Ushuru in the play-off.
The milkmen have had a tough season, finishing 16th in the 18-team league and had to square it out with National Super League side Ushuru, who finished third in the second tier for a place in the top flight.
Head coach Nicholas Muyoti is happy that the team has maintained its status in the top tier, but is adamant that it will never happen again.
"It has been a very bad season for us, the pressure we have been through has been really bad, and nobody wishes to undergo the same again. This was a lesson to us, everyone associated with Thika and never again will we go through this. At some point, I could not sleep!," Muyoti told Goal.
"Next season, we have to make a few changes that will take us to the top again, but for now I cannot disclose them, until I discuss with the management."
Reliable sources have told Goal that wholesale changes will be effected, with a number of players set to receive release letters starting January.