African All Stars
There's an agenda against Zaha, says Crystal Palace's Steve Parish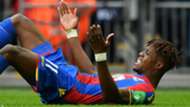 Crystal Palace Chairman Steve Parish has absolved Wilfried Zaha of diving against Manchester City in Sunday's English Premier League duel.
Palace ended the winning streak of Pep Guardiola's men after frustrating them to a barren draw at Selhurst Park but could have won the game had Luka Milivojevic converted a late penalty awarded by Referee Jonathan Moss after Zaha went down in the area from Raheem Sterling's challenge.
The former Manchester United player was then accused of diving in the encounter, though he was not found guilty by the FA.
And the chairman has insisted that the winger is not a diver claiming 'there's an agenda' against the Cote d'Ivoire international.
"There's an agenda against Wilfried Zaha," Parish told Daily Mail.
"I don't know why or where it comes from, but it is outrageous to accuse him of being a diver. It's total nonsense.
"I'm not sure some of the pundits pointing the finger at Wilf even know the rules. What are they watching?
"The penalty we were awarded against Manchester City on Sunday was nailed on. Wilf can't carry on running. He can't stay up. He's in front of Sterling who pulls his arm and falls on him. Look at the picture. How is that not a penalty?
"It's nonsense to claim he dived. If he could have stayed on his feet, he would have done.
"Trust me, Wilf is a genuine kid, a genuine player who just loves to play. He is an extraordinary talent - irreplaceable for us and I can't even begin to put a value on him - and one I hope fans of all clubs enjoy watching. The reason he has won three penalties for us this season is because he's such a good player."