World Cup
The Socceroos big pay day as registration fees set to rise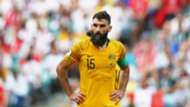 An imbalance at the top and bottom of Australian football has come to a head with reports of the Socceroos earning triple-figure sums for playing at the World Cup coinciding with news registration fees at the local level are set to rise.
According to former international Robbie Slater, the Socceroos earned 'off the planet' sums for competing in Russia.
"There's a lopsided deal with our national team," Slater told Fox Sports. 
"We're talking extraordinary money that the players have been paid...it's hundreds of thousands of dollars for each Socceroo player or most of them.
"We're not number one game in the country and we leave this World Cup as one of the highest paid nations."
The reveal comes not long after reports that football registration fees for juniors and seniors at the local level across the country are set to marginally rise.
The Australian reports that after spending $300,000 on each Socceroo in Russia, the FFA have turned to grassroots to gain back some revenue by raising the National Registration Fee.
Former Socceroo Craig Foster was appalled to hear about the increase and believes it points to the need for a major overhaul in Australian football governance. 
"If we can't maintain or reduce the cost to play, we're not doing a good job," Foster said on SBS.
"And FFA, if that's the solution, then you've failed.
"I think it's another reason why we need significant governance overhaul.
"There are massive structural issues we need to face and quite frankly the game and Football Federation
Australia
and the former chairman Frank Lowy never wanted to face them because I think they're too difficult and it's just easier to work at the top end."