Liverpool
The Road to Hull: Directionless Liverpool continue to lose their way in 2017
---
COMMENT
---
Jurgen Klopp, even when Liverpool have been at their most irresistible, has batted away bold proclamations and eschewed from framing any performance as the ultimate reference point for his blueprint.
WATCH: Ozil blasts Alexis & Monreal
But there was one fixture the German termed "near perfect" this season for his side's execution of their fundamental tenets.
The opponents were Hull City, in a Saturday 3pm kick-off back in September, when Adam Lallana scored once before supplying a further two, with Philippe Coutinho and Sadio Mane also adding to the tally while James Milner converted two penalties in a 5-1 victory.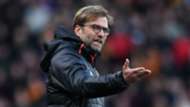 The Merseysiders had 12 shots on target in that encounter, with their work off the ball as enthralling as their mastery on it.
"We felt so good in this game," Klopp told Goal in an exclusive interview.
Chelsea champions in all but name
"Everything worked out, we scored the goals in the right moment, and when they got the ball it was like everyone was waiting to lose the ball so we could win it back and the whole stadium enjoyed it. In this game, we were nearly perfect."
If there was ever a greater contrast - a look at the swashbuckling Liverpool of then and the substandard version of now - it was provided away to the same adversary on Saturday. 
The fire and fluency the Reds exuded in the first meeting between these sides this season was replaced with frustration and flatness. 
Hull were fully deserving of their 2-0 win - a third at home in a row against Liverpool - their discipline out of possession and aggression in forward areas outweighing anything Klopp's charges could muster.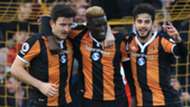 Liverpool are still without a league victory in 2017 after five attempts, and their problems are repetitive: struggling to break beyond a deep defence that block central routes, while conceding cheaply from a set-piece or a counter. 
Alfred N'Diaye and Oumar Niasse followed the script, affecting the scoreline from a corner and a break in either half respectively while the Reds failed to carve out enough quality chances and managed five shots on target, all coming in the second 45. 
"We gave easy goals away and we didn't play the first half as we should have played - especially when you saw the second half," said Klopp.
"You think then if we'd played from the beginning like this, with this direction, speed, kind of greed and all that stuff, then I think it would have been more difficult for Hull to cope with this.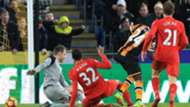 "We gave the first half away and from the result side, we gave the second half away."
'Someone doesn't want me at Man Utd'
There can be no excuses for Liverpool over personnel either; Roberto Firmino, Lallana, Mane and Coutinho started together for the first time in three months. 
The quartet had featured from the off together on seven previous occasions in the league, with six wins and a draw secured in those games that produced 24 goals. 
They could not offer a reminder of the attacking juggernaut they were at the start of the campaign, however, with nothing clicking and Coutinho particularly off-colour by his standards.
And, when the Reds fail to deliver on their strengths, it invites the exposure of their weaknesses.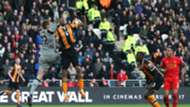 At the end of January, Klopp declared the club's goalkeeping department "the smallest issue" they had with Loris Karius's displays in the cup competitions sparking a higher level from Simon Mignolet. 
In the 1-1 draw against Chelsea on Tuesday night, he was disinclined to highlight the Belgian's unpreparedness for David Luiz's free-kick, choosing instead to applaud the cleverness of Antonio Conte's side. 
PL flops who could be NFL kickers
The 28-year-old had, after all, ensured the league leaders didn't depart Anfield with maximum reward having saved Diego Costa's penalty on 76 minutes. 
But, at the KCOM Stadium, fingers were again pointed at Mignolet as he couldn't hold onto Harry Maguire's header from Hull's first corner of the game, which gifted N'Diaye the opportunity to mark his debut with a goal.
It was a horrendous mistake that was assisted by some non-existent marking - neither the first nor the second phase of play courted any pressure from the visitors, who were sucked into ball watching and were too slow to react.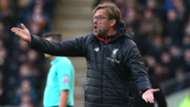 Another one then to file under their 'stupid goals conceded' folder, which is a troublingly thick one for Liverpool.
Mignolet did well to deny Abel Hernandez after the Reds' rearguard was dissected, but with the team's attacking powers in need of desperate charging, they can ill-afford for him to regress to the former, mistake-riddled version of himself.
If Karius is wondering how much longer, or how many more blunders it will take before he's restored in goal, Gini Wijnaldum could also question why the notably off-form Emre Can was selected ahead of him. 
The defeat cannot be put down to individuals, though, with Liverpool collectively the antithesis of the team they want to be - the 'near perfect' one from the reverse fixture against Hull. 
Klopp was correct in his assessment that Saturday's hosts do not resemble a side at the bottom of the table, but conversely, Liverpool have hardly looked like one at the top this year.