South Africa
The Premier Soccer League (PSL) chairman Dr Irvin Khoza vows to clear his name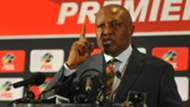 In his response to the alleged rape saga involving Safa president Dr Danny Jordaan, Premier Soccer League (PSL) chairman Dr Irvin Khoza denied reports that he he knows alleged rap victim Jennifer Ferguson.
Media reports surfaced this past weekend suggesting that the 'Iron Duke' was involved in the saga, after it was claimed that he booked flights and accommodation for the former African National Congress (ANC) Member of Parliament (MP), Ferguson.
According to reports, Khoza booked flights and accommodation for the singer using his personal credit card, but the PSL chief has since distanced himself from this.
The Orlando Pirates chairman was speaking to the media during a press conference on Thursday at the PSL offices in Johannesburg to address the matter.
Subsequent to the reports implicating Khoza in the matter, Jordaan has reportedly filed complaints against both Dr. Khoza and Ferguson on counts of defamation of character and conspiracy.
The rape case reportedly took place at a hotel in Port Elizabeth, 25 years ago and Ferguson, who resides in Sweden, has since opened a case against the embattled Safa boss.
Khoza also vowed that he will stop at nothing in an effort to clear his name, saying that the former nelson Mandela Bay Mayor is known for attacking people in public, but becomes apologetic in private.
"I do not know Mrs Jennifer Ferguson, I have never met her, spoken to her, or have had any form of contact with her," Khoza told the media.
"I have never had contact with anyone associated with Ferguson, nor sent anyone to talk with Ferguson," said Khoza..
"I know nothing of what is alleged by Jordaan, and the media about me. Mrs Jennifer Ferguson has issued a statement saying I don't know her and she doesn't know me," Khoza continued.
"I refuse to be Danny Jordaan's scapegoat in a matter I know nothing about. I will not stop at nothing until my name is cleared," said Khoza.
"I don't know the charges against me and I've never seen them. I must know what is in the charges. I'm still waiting for the documents," the Orlando Pirates chairman expressed.
"I don't want fight a black cat in the dark. Danny Jordaan attacks people publicly and apologies privately," Khoza added.