Brazil
'The modern goalkeeper has to do it all' - Meet new Brazil starlet Phelipe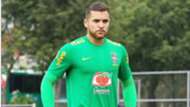 ---

EXCLUSIVE
---
"Nobody called me. I was taken by complete surprise," says Phelipe.
Up to that point, it had just been another day at work for the 19-year-old. "I was at training and, as it was over and I was leaving the field, the youth team technical director received the call and then called me over to the coaching staff to tell me," the new Brazil international tells Brasil Global Tour.
The Sao Paulo-born teenager, however, would not have been completely shocked by his first senior international call-up despite having never made a senior appearance.
Following this year's World Cup, Brazil coach Tite and his staff took the decision that from now on the role of third-choice goalkeeper would be assigned to youngsters as a way to help prepare them for a future with the national team.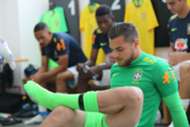 Last month, for the Brasil Global Tour of USA, young Flamengo goalkeeper Hugo joined the squad and another fresh face is expected in November.
And Phelipe has grown accustomed to wearing Amarelinha, at youth level, but admits he did feel that twinge of anxiety when he was asked to join the big boys.
"At first, I was a bit scared – I couldn't believe it. Right after I left the field, I went up to the physio room where they congratulated me and showed me they had said in the media, and Professor Tite on TV [confirming my call-up] and then it sank in."
Phelipe moved south to join Grêmio in 2013 and since then has set about consolidating himself as one of the club's promises. It's little wonder that his performances attracted praise from club idol, current Gremio no.1 and Brazil international Marcelo Grohe. 
"It adds value the school of goalkeepers here at Grêmio, in the youth divisions of the club, and of the professionals who work here. Phelipe has trained with us for a period now and he strengthens us, for sure," Grohe told the press.
Swift and technical, Phelipe's ability with his feet suggests he is ready to being following in the footsteps of his new colleagues, Alisson and Ederson. And while not the tallest, his athleticism and impressive agility has him marked out as a potential future star.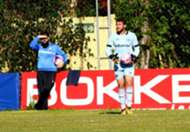 "Now a goalkeeper has to have all the tools," he says. "Modern football asks more of goalkeepers. We now have to play with our feet and be able to pass through lines and provide cover, and I think a goalkeeper now needs to be able to do all of that."
This week, Phelipe saw his idols become team-mates as he joined the squad in London ahead of the Brasil Global Tour clashes with Saudi Arabia and Argentina. But he feels no more anxiety, instead intent on taking as much as he can from the experience.
"I do not know anyone personally [in the squad], so it's all very new to me and I hope to meet and get to know everyone," he says. 
"This period is going to be very good for me, because it will be a great experience from which I can take things back home and share with my team-mates back here at Gremio."