eSports
The biggest FIFA esports transfers: Who has Ozil signed & where are Nicholas99 & Agge playing now?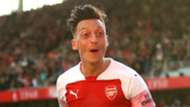 FIFA 19 is out, the ePremier League has been revealed and EA Sports has announced there will be more FIFA esports tournaments this season than ever before.  
With a big year ahead, esports organisations have been working hard to sign the world's best pro players under their brand and there have already been some big moves. 
There are also a few massive free agents, most notably FIFA Interactive World Cup 2017 champion Spencer 'Gorilla' Ealing. 
The Englishman left UNILAD earlier this year to join Tassa 'Tass' Rushan at FaZe but, after falling short at the eWorld Cup, Gorilla has decided to move again. He has yet to sign for a team but will undoubtedly be swamped with offers. 
Meanwhile, with UNILAD set to go into administration, Gorilla's former team-mate Shaun 'Shellz' Springette could also be on the move. The PlayStation player is a huge Chelsea fan and it's no secret he would be keen to represent them in the ePremier League. 
As for signed deals, Swiss Super League team FC Basel have possibly pulled off one of the biggest transfer coups in FIFA history with the signing of Gonzalo 'Nicholas99fc' Villalba. The Argentinian was one of the most consistent players last year and was heavy favourite to win the eWorld Cup but crashed out in the PlayStation semi-finals to Manchester City's Marcus 'Marcuzo' Jorgensen. 
Being the first team to sign up Nicholas is an impressive feat and a defiant message of intent following on from the protest against esports which happened during their match with Young Boys, which saw controllers thrown onto the pitch. 
Meanwhile, one of the most popular FIFA teams, Hashtag United, have had a busy off-season. The team's owner, Spencer Owen, revealed that they wanted to take the esport team in a new direction which will see all of their players based locally in England which led to their new signing, Henry 'Honey Badger' Blackmore.
The new strategy also meant the departure of August 'Agge' Rosenmeier - but the former FIWC champion has landed on his feet.  
Ready for the winter? ❄❄❄ #iceman pic.twitter.com/kdqluI2zrB

— FC Basel 1893 (@fcbasel_eSports) 27 de septiembre de 2018
Agge has returned to Denmark as the first ever FIFA player of North, the esports organisation belonging to FC Copenhagen. North already have a successful CS:GO team and like to appeal to their local fans in Denmark, making this the perfect move for both parties. 
Finally, there's one other new team on the block, Team Ozil. The Arsenal star has decided to start his own FIFA team and hasn't held back, signing FIFA Club World Cup champion Fatih 'Ustun' Ustun and Brazilian Pedro 'PResende97' Resende, who finished in the Xbox top eight at the eWorld Cup after being knocked out by eventual champion Mossad 'MSDossary' Aldossary. 
The champion himself has been linked with Team Ozil after the midfielder gave him box seats to the Gunners' match with Manchester City but, for now, the Saudi Arabian is still with Rogue