Tampines edge out Meridian by a single goal in close encounter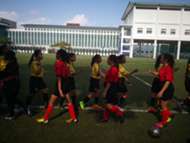 Last Friday saw a tight encounter between Tampines Secondary School and Meridian Secondary School in the National Inter-School 'C' Division Girls Football Championships 2018
Both teams were of similar quality which made for a gripping game and in the end it was Tampines who outwitted their counterparts, by the slimmest of margin through a well-taken penalty.
In the first half Tampines were the more adventurous outfit as they attacked and created more chances. It was therefore unsurprising that they had the lion's share of possession. Tampines' winger was a constant livewire on the flank and the number 11 was the most threatening as she delivered cross after cross.
However Meridian soon found their rhythm and grew into the game creating a few good chances. But just as they were starting to get a foothold in the game, the 30th minute saw them concede a penalty which Tampines scored.
Subsequently in the second half, Meridian started strongly as the team chased for an equaliser but was unable to break down the Tampines defence. In the end, Tampines held on to edge out the opposition and claim victory.
"I think we could have done better, we just lacked the communication but overall we tried our best and will come back stronger," said number 11 Annika of Tampines.
She is also confident moving forward her team can secure the wins needed.
"If we get our communication right and train on the right methods to speak better to each other in games, I am confident of our chances," added Annika.