UEFA Champions League
Surprise package Liverpool like 2005 Champions League winners - Garcia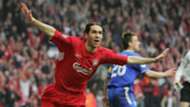 Luis Garcia has seen this before, felt it before.
Liverpool and the Champions League. Those special feelings. Memorable nights, unforgettable victories, the momentum building and building. Europe's premier club competition tantalisingly within reach.
For 2005, read 2018. Then, as now, a side unfancied at the start of the competition has managed to go deep. On Tuesday, Jurgen Klopp's side will begin their semi-final with Roma. The Reds, suddenly, are favourites to book their place in next month's final in Kiev.
The city is buzzing – half of it, anyway. Liverpool fans have a nose for a European run, and they can certainly smell this one. It's set up for another one of those Anfield nights.
Garcia knows all about them, of course. The Spaniard was the hero of Liverpool's glorious 2005 campaign, his goals in wins over Juventus in the quarter-final and then Chelsea in the semi-final ensuring his place in Reds folklore. He'll be at Anfield on Tuesday night, and he is guaranteed the warmest of receptions. The Kop will sing about sangria and football heaven at some point.
"I can't wait!" Garcia tells Goal as he looks ahead to the tie. "There's nothing like a big European night at Anfield. I'm really looking forward to it."
Garcia's three years at Anfield were, in many ways, defined by those big European nights he speaks of. In his three seasons, Liverpool reached two Champions League finals, winning one and losing one. Rafa Benitez's side were far from the best around, but consistently found ways to punch above their weight.
Chelsea, Juventus, Milan Barcelona, and later Arsenal, Inter and Real Madrid all fell victim to that irresistible combination of a confident team and a passionate Anfield. The resemblance with the current team are obvious, even if the styles of the sides are very different.
"Yes, I see the similarities," Garcia says. "Like in 2005, I don't think people expected Liverpool to be here.
"Obviously they had to battle really hard just to get into the top four last season, and so to now be in the semi finals and having a great chance to go further, I think they've surprised a lot of people.
"It's not been lucky though. They've shown the team spirit and the quality that they have, and with the likes of Salah and co, they have given belief to their supporters. Having beaten Manchester City in the last round, they will not be afraid of any challenge now, that's for sure."
The general consensus, albeit one that Klopp is quick to dismiss, is that Liverpool have had a stroke of good fortune in drawing Roma at this stage. The Italians, after all, are the real surprise of the competition. While the giants of Real Madrid and Bayern Munich duel it out in the other semi-final, Liverpool take on a team that has never won a European trophy, and has only once before been at this stage.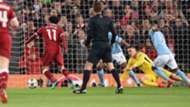 "I think when the draw was made Liverpool were happy," Garcia says. "That is not me saying that Roma are an easy team to play against or anything, but when you consider that the alternatives were Bayern Munich and Real Madrid, you can see why you would feel this gives the team a better chance to progress.
"Roma showed how strong they are in the last round against Barcelona, but if we are talking about the chance to reach the final, I think this is the game which gives Liverpool the best possible opportunity."
Klopp admitted that news of Roma's progression against Barcelona, in which they overturned a 4-1 first-leg deficit, had left him shocked. "I thought somebody was joking," he told reporters shortly after his own side's triumph at Manchester City.
"He wasn't the only one!" laughs Garcia, a former Barcelona player. "I think after the way Barcelona performed in the first leg, we all thought they were going to the semi-finals.
"But this is football, and things can happen. Results like that can happen even to the great sides, it's why we love the game and why we all watch it with such passion.
"Barcelona were the ones who made a miracle happen last year against Paris Saint-Germain, but they were on the other end of things this time. That's the beauty of football, no matter how long you are watching it, it can still come and surprise you like that.
"Obviously I am sad as a former Barcelona man that they are not in the last four, but they'll be back I'm sure. They always are!"
As for Liverpool, Garcia has been impressed by what he sees from Klopp's side.
"I think he's doing a great job," he says. "He is making progress with the club and you can see that in the way the team is playing. The supporters have a team that is very strong, very consistent and plays in a way that can make them proud.
"I think that is important for Liverpool fans. They love to see their team win, but they love to see them playing with aggression and passion, and with Klopp they get that. Anfield is a great place to watch football at any time, but this season it has gone up a level."
That last point is an important one. Few clubs use their supporters as effectively as Liverpool do on European nights. Anfield, occasionally sleepy for domestic games, comes alive under the lights for continental encounters.
Garcia, of course, has experienced this first-hand. He describes that Chelsea semi-final of 2005 as his "greatest football memory" – those who were there speak in awe of what they experienced, even 13 years on.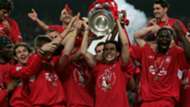 "Playing at Anfield is special," Garcia says. "But playing at Anfield in the Champions League is even more so. There are few places like it.
"The supporters know that they can make a difference. They know that by being loud and supporting the team, they can affect the result. I was lucky enough to witness that in the last round against Manchester City – anyone who tells me the fans do not have any effect should watch that game and think again!
"As a player, a Liverpool player, it lifts you because you feel this power at your back. As an opponent, I can only imagine what it does!
"For me, the most important moments are the ones where things are maybe not going for you, where you are under pressure or you are struggling. That is when you feel the fans the most, you feel them encourage you and lift you from the floor.
"Until I came to Liverpool, I don't think I realised the importance of fans in a football match."
It promises to be some night, some occasion. Two teams, unfancied at the start of the season, going all out to take advantage of a fantastic opportunity. While Lionel Messi, Kevin De Bruyne, Neymar, Eden Hazard, Paul Pogba and others sit and watch – or try to avoid – Tuesday offers the chance for new stars to step up and stamp their name over Europe's greatest competition.
"It's been a remarkable season," Garcia says. "When you think that teams of the strength of Barcelona, Manchester City, Paris Saint-Germain, Juventus, Chelsea, Manchester United are all out. Any of those teams could have thought about winning the competition I am sure. But here we are.
"Liverpool and Roma are the surprise teams, if you like. They are the ones that probably nobody expected to be there, but they deserve to be there.
"And well, one of them will be in the final. I hope it's Liverpool!"
Luis Garcia has made the Big Call with online betting site BetStars. He is backing Liverpool to win the Champions League. #Callit at BetStars