African All Stars
A 'sweet and sour moment' - Fanendo Adi on Super Eagles invite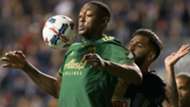 Portland Timbers' Fanendo Adi has described his time in the Nigeria national team as a 'sweet and sour moment'.
After being handed an invite as part of the 42-man delegate for 2017 African Cup of Nations qualifying game against Egypt in March 2016, the 26-year-old was dropped from the final list that would face the Pharoahs.
And he has expressed disappointment at his exclusion from the 19-man squad that faced the African giants in Kaduna after travelling for more than a day from his base in the United States of America.
"To be able to represent your country is always good. To get invited is a good thing. The bad thing is to fly all the way from America, 32 hours to go there and back and not even be on the bench or on the 18/19 (list)," Adi told Kwese ESPN.
"It's not a good moment or not a good thing, so for me, that was very disappointing. I knew I could contribute but you just have to respect the coaches and do what they want to do, go with the flow. But also it looks bad that I flew all the way for 32 hours without being on the 19-man list. It was a sweet and sour moment."
"We're all different players. I'd just do what I'm known for. I would try to help the team with my physical play, with my ball control, keeping the ball up for the players. And scoring goals for the team, helping the team create and as well score goals."
Despite the snub, the former Trencin marksman - who has registered 10 goals in 22 MLS games this season - reiterated his readiness to honour future invites, but only if he is assured of playing time.
"After I experienced the first call up, I said I'm not gonna fly out there [for nothing]. If they invite me, I'm just gonna ask the coach, 'Am I gonna be on the 19 man (list)?'
"I'm not ready to fly 32 hours and just stay on the trip and watch the game and not play. I'm not ready to go and just sit, that's not what I want, but it's always a great honour to represent your nation and if I'm called up that will be a very good thing for me and I will be very happy to represent my country," he concluded.