AIFF Super Cup
Super Cup 2018: Derrick Pereira - We may have to start with eight players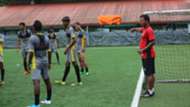 FC Goa face East Bengal in the first semi-final of the 2018 Super Cup at the Kalinga Stadium in Bhubaneswar, Odisha, on Monday.
The coach of the Goan side, Derrick Pereira expressed his frustration regarding the All India Football Federation's (AIFF) decision to retrospectively suspend three of his players - Bruno Pinheiro, Sergio Juste and Brandon Fernandes - for a half-time scuffle during their match against Jamshedpur FC in the last round. The suspension leaves Pereira without five of his key players as Hugo Boumous and Pranoy Halder will also miss out due to the accumulation of two yellow cards in the tournament. 
"Before I talk about tomorrow's (Monday) game, I would like to say that an unfortunate incident happened in the last match. Everybody knows who started it. Our players were suspended for defending themselves," he continued. 
"Today we are in a situation where a lot of things are going on in my mind about tomorrow's match. Four players haven't travelled due to injuries, five players are suspended and we have right now 14 players including two goalkeepers."
With Brandon Fernandes, Bruno Pinheiro, Sergio Juste, Pronay Halder and Hugo Boumous all suspended, Pereira reflected upon a selection headache he has at hand but remained confident of a positive display from his first-team players. 
"Last night I saw three-to-four players receiving treatment from our medical team and I'm thinking about the 11 players. Possibilities are there that we may not have 11 players on the pitch tomorrow and we may have to start the way we ended - with eight players like in the last match.
"Maybe if another two players are out, I'm not sure whether we can field a team or no; but I'm very confident, whoever takes [to] the field tomorrow, we are going to fight it out and play our best. We had a very good team throughout the season. Yes, there are some players who had not started in the beginning. I'm sure that they will fight it out tomorrow. If we perform well, the result will follow."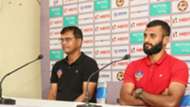 Regardless of the off-the-field incidents, the former Salgaocar coach quipped that his players are focused on the task at hand, "I think they (FC Goa players) are focused on their job and that's why we got the victory in the last match.
"We were focusing on the match. Like I said after the last match, we were only showing our disappointment with the referee but we continued playing and we got the result because we focused on controlling the situation."
Pereira added that his side will not be giving up on their attacking style of play despite the absence of several key players. Chinglensana Singh has also picked up a strain in his calf during a training session.
"The only thing that we will be missing on the pitch is that understanding, the combination play. We have trained together for a long time but some of the boys will be playing in a competitive match for the first time. It's a motivation for them and they are professional players. Once any professional player gets on the pitch, they give their best."
The coach also believes that their opponents will not have an advantage. "They (East Bengal) have a full squad, but it won't be easy for them. We will do our best to perform to our potential. We will stick to our ideas. There won't be any change in our style of play and we will definitely for a win," he insisted.
When asked whether the club will stage a protest, he replied, "At the moment, I cannot say anything about it. I am just focussing on tomorrow's game."