Premier League
Super Captain Lukaku runs riot in league standings
Lukaku Runs Riot
Everton's win over Bournemouth last weekend saw the rampant Romelu Lukaku score four goals to produce the highest single-match score of EPL Manager Fantasy Season 2016/17 so far. Lukaku's 22 points bested the previous highest single-match score (20 points) produced by Alexis Sanchez in Matchweek 14 vs West Ham. The performance also made Lukaku the second highest scoring player of EPL Manager Fantasy after the twenty four matchweeks of this season with a total tally of 125 points and just six points behind Sanchez.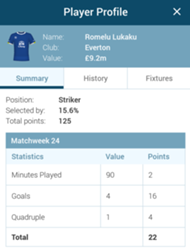 Source: EPL Manager Mobile App/Statistics
Being the fourth most selected Super Captain of Matchweek 24, Lukaku certainly rewarded those team managers who picked him as Super Captain by delivering the staggering 66 points (22x3) and moving these teams up in the leagues standings.
There are currently two EPL Manager competitive leagues under way, LEAGUE 17 and LEAGUE ALL7, in which all top-ten places are now occupied by the teams that picked Lukaku as Captain, with 19 such teams selecting him as Super Captain and one team as Captain.
It is easy to image the disappointment of those EPL Manager users who had been leading the leagues standings prior to Matchweek 24 but missed on picking Lukaku, as well as the excitement of those who chose the Everton striker to lead their EPL Manager Fantasy teams.
New 3xPLUS LEAGUE Deadline is Tomorrow!
EPL Manager Fantasy has announced a new 3xPLUS League featuring latest mobile phones as prizes for the league's top performing teams. Registration deadline for 3xPLUS is this Saturday (Feb 11), one hour before the first match kick-off. The league will be played for six matchweeks and will end April 1.
EPL Manager users who are already playing in other competitive leagues can enter 3xPLUS in line with the recently announced new EPL Manager leagues format.
The new format allows users to participate in multiple competitive leagues at the same time. Such format especially benefits those users who have fallen too far behind in a league's standing by enabling them to join and compete for prizes in new competitive leagues while continuing in the leagues they had previously entered.
3xPLUS Prizes:
Winner: iPhone 7 Plus 32GB
2nd place: One Plus 3T 64GB
3rd place: Xiaomi Mi5s Plus 64GB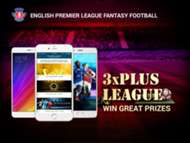 About EPL Manager Fantasy
EPL Manager Fantasy Football game (https://eplmanager.com), launched at the beginning of the English Premier League Season 2016-17, continues to gain popularity in Asia. With more than one hundred thousand registered players in Southeast Asia, the game is a creative and improved version of the more traditional football fantasy games in which a user needs to assemble a team of 15 EPL players (11 starters plus 4 on the bench) who score points based on their actual real-match performances in each matchweek of the English Premier League. Points are awarded for goals, assists, clean sheets, tackles, interceptions, and other statistical factors.
Users can buy new and sell underperforming or injured players each matchweek.
An important part of the game is a smart choice of team captain for the next matchweek. An EPL player chosen as a team captain will have his points doubled (2x). EPL Manager users can also activate Super Captain whose points will triple (3x).
For more about scoring and rules, please visit Game Rules at https://eplmanager.com/game-rules.
EPL Manager Fantasy Football features live EPL match scores and points updates with real-time data supplied by OPTA, the official media data partner of the English Premier League.
EPLManager is available in multiple languages at https://eplmanager.com and on mobile apps.
Sign up now to play this exciting EPL Fantasy Football game and to compete for great prizes!
Click on any of the icons below to go to EPL Manager Fantasy Football.