African All Stars
Star Lager Beer announces partnership with Barcelona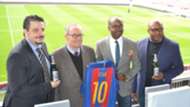 Star Lager Beer at an event on Friday, March 3, 2017 announced an innovative partnership with Barcelona as its official beer partner.
The significance of this new partnership bestows Star Lager exclusive rights to promote the brands' association to millions of FC Barcelona fans across Nigeria further supporting the vision to embrace an unrivalled passion of premium football experience by Nigerian fans. 
Commenting on the new partnership, Marketing Director, Nigerian Breweries Plc, Franco Maria-Maggi said the partnership is part of Star's commitment to its consumers' with the biggest passion for football.
"We are committed as a brand to nurture a partnership as this one, which will positively impact on the development of the football landscape in Nigeria. As a national premium brand, Star is investing in this and other partnerships with a huge potential for world class knowledge transfer,'' he said.
"The Nigerian football community will benefit from the technical expertise shared by the European giant as the growing sophistication of football fans mean the level of even local clubs in Nigeria must significantly improve to attract and keep the attention of the fans."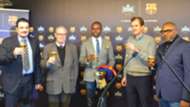 FC Barcelona is the second most valuable sports team in the world, worth $3.56 billion, and the world's second richest football club in terms of revenue, with an annual turnover of €560.8 million. Notable Nigerian players such as Emmanuel Amuneke, Samuel Okunowo and Haruna Babangida have previously pitched side with the Catalans. 
With knowledge of the impressive fan base in Nigeria, FC Barcelona legend Edgar Davids affirmed that "Playing for Barcelona gave me the opportunity to meet with, appreciate and respect the diversity of cultural background of players from diverse environment. This goes to show that football is truly universal and pulls down cultural barriers. It's even more exciting to see a partnership between the club and Nigeria's Number 1 beer brand, Star Lager".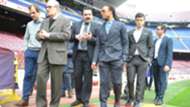 Confirming other benefits for the Star brand through its partnership with FC Barcelona, Portfolio Manager, National Premium, Nigerian Breweries Plc, Tokunbo Adodo stated.
"This partnership with FC Barcelona looks to build a deeper level of connection with the FC Barcelona followers in Nigeria. The attraction of FC Barcelona to the Nigeria football community will yield benefits in the medium to long term. We are constantly making football an exciting sport by breaking new grounds and embracing great opportunities to deliver premium fans' engagement across various channels and platforms."
Sixty-seven years after it debuted in the Nigerian brewing sector, Star lager beer has continued to occupy the premium position bringing a brighter shine to millions of fans and actively supporting the development of football in Nigeria.