Barcelona
'Special' Messi made the difference for Barcelona - Ter Stegen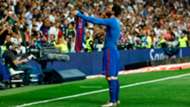 Marc-Andre ter Stegen has praised Lionel Messi as a "special player", after the Argentine reached 500 career goals for his club in Sunday's Clasico victory.
Messi reached the milestone with a 92nd-minute winner, in the 3-2 win over Real Madrid, to help Barcelona go level on points with Los Blancos at the top of La Liga.
And Ter Stegen believes that his performance, coupled with Barcelona's desire, has given Barcelona a fighting chance of taking the league title.
"We all know Messi and he can make a difference," the German goalkeeper told Mundo Deportivo.
"He is a very special player. The rest of us made a great effort and together we achieved the victory.
"We wanted to win today, but it was also important to play well and maintain our style.
"The important thing is, we won and maintained our chances of winning the league.
"We don't know what will happen between now and the end of the season, but we have the chance [to win the league] and we'll fight until the end."
Barcelona are back in action on Wednesday against Osasuna, with kick-off at 18:30 UK time.