Africa Women Cup of Nations
South Africa's Van Wyk mulls over future ahead Awcon final with Nigeria
Awcon Correspondent in Accra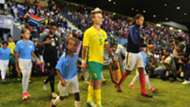 It has been some career for 31-year-old South Africa captain Janine Van Wyk.
After two appearances at the Olympic Games, the centre-back is just some months away from playing at the prestigious Fifa Women's World Cup after helping Banyana Banyana into the final of the ongoing Africa Women Championship in Ghana to confirm a historic first ever qualification.
"Not only to me but to my country, it means amazing things for women's football," Van Wyk told Goal on Thursday as they await Saturday's final against none other than eight-time champions Nigeria.
"And obviously for us as individual and as a team, it's something that most of us have dreamt of doing since we started playing football.
"Personally, I told myself I'll never retire until I go to a World Cup and I think the time has come because I'm not getting any younger.
"So I'm extremely proud of qualifying and the accomplishments we have worked toward. It's just an incredible feeling."
In the twilling of her career, playing at next year's World Cup could well signal the end of an illustrious 14 years of international football.
"It's something that I have always wanted to achieve – participating in a World Cup. Everything else I set my mind to, I have achieved already," explained the Houston Dash ace.
"I think the last thing for me is participating in a World Cup. Things happen. You can't really make a decision a year ahead and say after the World Cup, I'm retiring. It might happen, it might not happen.
"For now, I just have to cherish every single moment that I get playing as much as I can. I'm still healthy, my body is still working and I'm still able to contribute to my country. Who knows what time will bring? We'll see when we get there."
Nigeria are eight-time winners of the Awcon but that is not the only reason why the Super Falcons should be "feared" ahead of Saturday's decider. Thrice, Banyana Banyana have played in the final of the tournament, three times they have lost – two of which were at the hands of the West Africans.
"'Scared' is not in our vocabulary. I think this team has grown so much. We're an experienced team as well. We have played Nigeria and we also have experienced players in our team. Over five players have a 100 caps in this team," Van Wyk stated.
"And these are players that are so hungry to achieve our goals and we have done exactly that. We also have players that are playing abroad like the Nigerians.
"We showcased a great game in the first match. It was a tough one, but I think this time around it will be very different."
And there is good reason for South Africa to be more optimistic this time around. They have already faced Nigeria in Ghana and downed them, the result coming courtesy of a Thembi Kgatlana sole effort in their tournament opener.
"We come into this game with confidence. We have come to the tournament and we have not lost a game. And we have conceded one goal," Van Wyk explained.
"For us as a team, we obviously came here to achieve what we wanted to, and I think this game is going to put the cherry on top of the cake if we do win. I've been to many Awcons and this team is so united.
"We've been together for a whole year preparing for this moment. And I think that is going to make a big difference in this game because before, we didn't have such great preparations leading up to a tournament like this. We had good preparations against quality teams."