Arsenal
'Some fans want Arsenal to lose' - Wenger saga frustrates Merson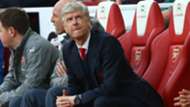 The ongoing debate regarding Arsene Wenger's future at Arsenal has led some supporters to wish defeat upon the team, according to Paul Merson.
Protests against the Frenchman's reign continue in north London, with certain sections of a disgruntled fan base calling for change at the end of a 20-year cycle.
'Sanchez will end up at Chelsea'
Results at home and in Europe have culminated in more frequent fan protests, with Merson of the opinion that the desire to remove Wenger from his post – a campaign he agrees with in part – now outweighs the ambition to be successful in the remainder of the 2016-17 season.
"There are fans that want them to lose now," the former Gunners midfielder told ESPN.
"I think we have got to the point where it doesn't make any difference whether Wenger stays or goes. The season has fizzled out so much now that the fans don't really care any more and they have lost a bit of interest.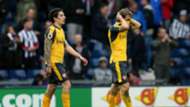 "I said last year that if they didn't win the league in a year when Leicester won it, then there is a big problem, but that has been the story year after year for a long time now. It is the same year after year and the fans have had enough of it.
"The trouble for me is the power he has there. Wenger does everything at Arsenal. No one tells him anything and it feels like there is an arrogance about him that is not nice. He keeps telling us he will decide what [he] will do on his future. That is not right.
Clichy: Wenger right for Arsenal
"The problem is, what will he do if he leaves Arsenal? He is not like Sir Alex Ferguson who can go and have a nice day out watching horse racing. Arsenal is his life. He doesn't want to give that up."
Wenger will get another chance to try and relieve some of the mounting pressure on his shoulders when Arsenal face London rivals West Ham on Wednesday, with the Gunners going in search of a first Premier League win in four outings.