African Nations Championship
Sisse slams referee after Ghana defeat in Wafu opener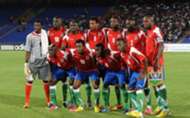 Gambia coach Omar Sisse has launched a scathing attack at referee Ouedraogo Boukari, following his side's 1-0 defeat to Ghana in the opening game of the 2017 Wafu competition at the Cape Coast Sports Stadium on Saturday.
A late goal in additional time from the spot by substitute Vincent Atinga, after Thomas Abbey's effort was adjudged to have hit one of Gambia defender's hand, was enough to handle Maxwell Konadu's men a place in the next stage of the competition.
"I'm sad for African football. Look at what happened, I mean the referee's performance. I'm very sad," Sisse said.
"Even God fearing Ghanaians know that there was no way that ball was a penalty.
"This is the handiwork of our referees on the continent that's why always we don't perform well any time we compete at the Fifa World Cup if centre referees most a times can decide the final results of matches, favouring the home-based teams or countries as the referee did 'absolutely' so for Ghana. Maybe for them being the hosting team of the tournament [but] Africa will continue to suffer," he added.
Last week, Ghanaian referee Joseph Lamptey was handed a lifetime ban by Fifa after his appeal on charges that he manipulated the game between South Africa and Senegal was thrown out.