PSL
Siphiwe Mkhonza worried by Eric Mathoho's complacency at Kaizer Chiefs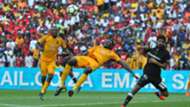 Former Kaizer Chiefs defender Siphiwe Mkhonza believes Eric Mathoho has become too relaxed.
"I think it has gone into his mind that he plays week-in and week-out whether he performs or not, which has made him forget about the dynamics and fundamentals of the game," Mkhonza told the media.
Mathoho became the club's Player of the Season three seasons ago during their PSL title winning triumph, but his game has deteriorated immensely since then.
"As a defender, it is about the work that you put in. It is not like attackers where it is about instinct.
"The fact that he has been playing for so long and there's no one who is challenging him has made him relax," he said.
While many has directed plaudits at the 19-year-old Siyabonga Ngezana following a few telling performances, Mkhonza opts to reserve the praise.
"The problem that we have in South Africa is that we give credit too early. I think it is too early. I hope that he has good surroundings around him. You don't want to lie to him and say you are there when you are not there," he added.
"If you do that, you are crippling him and he will forget to work on the fundamentals of the game. Most of our young players forget to work on the fundamentals of the game.
"They tend to forget to work hard enough. For me, an athlete needs to work hard all the time. It doesn't matter how you performed in your last match.
"With good coaching, I think Ngezana will develop. He hasn't reached his prime as yet," Mkhonza concluded.