Singida United
Mustapha feels sorry for Pluijm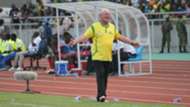 Singida United goalkeeper Ally Mustapha has revealed that he feels sorry for manager Hans van der Pluijm following their 1-1 draw at home against Ndanda FC on Sunday.
The hosts took the lead through an early Kambale Salita strike, but Ndanda equalized in second half through skiper Jacob Masawe.
Mustapha told Goal that Pluijm should be praised for his preparation heading into games, but also admitted that recent result have been unacceptable.
Singida United under Duch coach Van Der Pluijm currently sit fifth in the table with 35 points from 22 matches.