PSL
Sebola: Matlaba is better at left-back for Orlando Pirates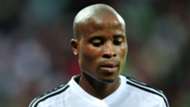 Legendary Orlando Pirates striker Andries Sebola strongly believes that Thabo Matlaba should return to his usual left-back position.
Matlaba has recently been played on the right hand side of the Bucs defense by Jonevret, with either Patrick Phungwayo or Marc van Heerden on the left.    
"He is a mobile player. He can play on the right and on the left, but he is good coming from the left," Sebola told Goal.
Sebola predicts it will be very difficult for Matlaba to reclaim his position on the left hand side, simply because Phungwayo and Van Heerden have worked closely with assistant coach Harold Legodi in the past.
"Now there is Van Heerden and Phungwayo who played under Jazzy Queen Legodi's academy which means he will get more game-time which will put Matlaba on the right," Sebola said.
"Even though goals won't come from Matlaba when he is playing on the right, but when he is playing on the left that's when he creates and scores goals," Sebola said.
The former Free State Stars left-back is renowned for his overlapping runs at left-back, adding numbers in attack and creating goalscoring opportunities for the Sea Robbers.