U17 World Cup
FIFA U-17 World Cup: Salt Lake Stadium capacity reduced to 66,687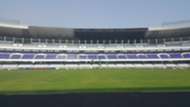 With only 26 days left for the FIFA U-17 World Cup to kick-off, the West Bengal government on Sunday officially handed over the Vivekananda Yuba Bharati Krirangan (Salt Lake Stadium) to FIFA. The world body will now be in charge of the entire stadium facility until the conclusion of the tournament on October 28.
The West Bengal sports Minister Arup Biswas ceremoniously handed over the responsibility to the tournament director Javier Ceppi. The Sports Minister addressing the media said, "We are formally handing over the responsibility of the stadium to FIFA until the conclusion of the world cup as per rules.
"The renovation work of the Salt Lake started in February 2015 and after two and a half years' effort, here we are. We have completed 98 per cent of the work. Some work in the outside part of the stadium and some in the media and VIP tribunes are left which will be completed soon."
"More than Rs.100 crores have been invested by the state government for the refurbishment of the stadium. The official capacity of the stadium is 80,000 but during the World Cup, keeping in mind the security concerns, the capacity has been reduced to 66,687."
Javier Ceppi mentioned how much FIFA is impressed with the government's efforts in changing the face of the stadium. "I thank the West Bengal government and the PWD for renovating this stadium in a brilliant manner. Everyone knows how it was 2 years back and now look how the stadium looks. From here we take charge of the stadium and will hand it back again on October 29.," said the tournament director.
On asked if he will rate Salt Lake Stadium higher than others, the Spaniard replied, "All the six stadiums are like our kids and it is impossible to choose among them. Of course, special attention was given to this one as the World Cup final will take place in Kolkata. Yuba Bharati gets full marks."
The matches of Group F comprising of England, Mexico, Iraq and Chile will take place at the Salt Lake Stadium in Kolkata starting from October 8. These teams will reach Kolkata by October 3, as confirmed by the tournament director.