Mohamed Salah
'Salah was always special' - Bradley reflects on Liverpool star's progress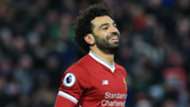 Mohamed Salah was always a 'special' talent, with the Liverpool star's strengths comparable to those of Hristo Stoichkov, according to former Egypt coach Bob Bradley.
Salah is enjoying a phenomenal debut season with Liverpool, having scored 41 goals in all competitions since his arrival from Roma and was crowned PFA Player of the Year on Sunday.
His potential was quickly identified by Bradley, who was Egypt coach between 2011 and 2013, and he is delighted to see how Salah's career has progressed.
"When I first arrived in Egypt I saw Salah play with his club team, Arab Contractors," LAFC coach Bradley told Goal. "He and Mohamed Elneny were on the same team. They were young players but you could see there was something there.
"After Port Said (a stadium disaster in February 2012 which eventually resulted in the Egyptian Football Association cancelling the remainder of the domestic season), we started having opportunities to bring young guys into the camps and immediately you knew that Salah was special. He was hungry, smart, he wanted to get better. He and [Mohamed] Aboutrika formed an immediate connection and relationship that really paid off right from the start.
"Salah's a great guy and I'm so happy for him because he was so determined to take his career and move with it.
"I was excited that we could help in some way when the moment came for him to go to FC Basel. And then when he did well there, other doors in Europe opened and things have come together this year.
"It's an incredible season where not only is he dynamic and exciting, but just the pure number of goals. He's pretty special."
Salah quickly became Egypt's star man whilst playing under the former Swansea City boss, scoring 14 goals in the 22 games he played under Bradley, who compared the attacker with Bulgarian legend Stoichkov.
Bradley, who worked with Stoichkov at the Chicago Fire, said: "Hristo, when he came to Chicago, it was the latter part of his career, but his movement, his power, his explosiveness. When I first started working with Salah I saw some of those same things
"His movement from outside in. His ability then when he got inside the box, to finish. His number one finish was always just how he would come in from right to left and use his left foot to curl it into the far corner.
"But since then he's added different kind of finishing, his dribbling has gotten better.
Bradley was not expecting Salah to produce such an impressive goal return on his first season back in the Premier League, but he never had any doubts about the 25-year-old's talent.
He said: "On one hand, did I expect all these goals? Maybe not, but I've told everybody over the years that Salah was a special talent and special person."