A-League
Cornthwaite: I didn't enjoy the Wanderers under Josep Gombau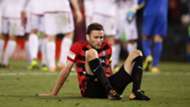 Former Western Sydney Wanderers captain Robbie Cornthwaite has admitted he left the club because of differences with new coach Josep Gombau.
Cornthwaite was installed as Wanderers skipper by Tony Popovic at the start of the season but found himself benched after the latter left for Turkey and was replaced by Gombau.
The 32-year-old defender, who is now plying his trade in Malaysia with Perak FA,  says he stopped enjoying football after Gombau's introduction and expressed his preference for Popovic's coaching style.
"When there was a change of managers, the club started to head in a direction that I didn't really enjoy anymore," Cornthwaite told ESPN.
"[Gombau] is a lot more relaxed than 'Poppa' and a different style of coach who wants to be friends with the players. It certainly worked well for him in the past, but I prefer more of a boss.
"Once you're not enjoying things, it's hard to perform well.
"Working with Tony Popovic was one of the best learning experiences I've had as a player because I loved his attention to detail, with a no-nonsense, winning mentality -- at all costs."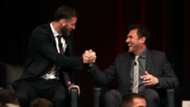 There has been suggestions Cornthwaite left Australian shores for south-east Asia because there was a lack of opportunities for him in the A-League.
But the former Adelaide United centre-half believes his past record in Asia means he has nothing prove, and explained the stagnant nature of the A-League is one the reasons why he left.
"I've spent over half my career in Asia and not many players have survived 12 months in any league. I'm into my seventh season. I don't have anything to prove," he said.
"People think you can just walk into a Southeast Asian league once they can't find anything in Australia, but it's not like that. There's a list as long as my arm of players who want out of the A-League but can't find anything.
"Unfortunately, the A-League is stagnant and players want to set up their futures. There's a lot that needs to improve in the running of the game in Australia. Let's hope something gives sooner rather than later."