RB Leipzig
RB Leipzig must avoid selling Keita and Forsberg or risk becoming the new Dortmund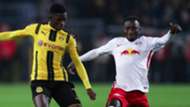 ---
COMMENT
---
Mats Hummels, Ilkay Gundogan, Henrikh Mkhitaryan. Three names who will be lighting up the Champions League next season, and three players who were all on the books of Borussia Dortmund 15 months ago.
Dortmund will be in the Champions League again this season, where they will be accompanied by Germany's newest mega-club, RB Leipzig, who are financially backed by the global energy drink giant Red Bull.
Leipzig finished above Dortmund in the 2016-17 Bundesliga table, having signed shrewdly under director of football Ralf Rangnick. Where Dortmund were weaker having sold three of their best players, Leipzig followed up their promotion to the top flight with clever transfer business including the acquisition of Timo Werner and Naby Keita.
The latter is highly sought-after this summer, with Liverpool prepared to break their transfer record to sign the €80 million valued all-action midfielder. Their financial clout from Red Bull means that Leipzig do not need to sell their best players, having achieved Champions League qualification at the first time of asking.
"We're not thinking about selling our best players this summer. There's no red line for us. We will keep our team and improve it in several positions," Rangnick told Bild.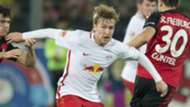 Another star of Leipzig's 2016-17 season, Emil Forsberg, is also a summer transfer target for numerous clubs. Having led the Bundesliga in assists last season, the Sweden international has been linked with Arsenal and AC Milan, leading his agent to speculate about a move abroad.
Again, Rangnick will not be pressured into letting his best players leave the club, aggressively responding to the agent's claims that his client should be allowed join a bigger club: "Those are Christmas wishes in the summer. We have amended Emil's contract twice and we cannot do more than what we have done: giving him a contract that runs until 2022."
This summer, Dortmund have sold squad player Matthias Ginter to Borussia Monchengladbach, while Ousmane Dembele and Marc Bartra have both been linked with - and are likely to complete - transfers to Champions League clubs.
BVB are known as a selling club. They produce and sign quality players, but can never hold onto their top talent, losing their stars to perennial Bundesliga champions Bayern Munich or clubs abroad. RB Leipzig must avoid selling their top talent if they wish to become a club capable of challenging Bayern and winning the German title.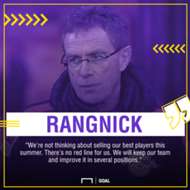 Their financial muscle puts them in a strong position, but they need to ensure that the likes of Keita and Forsberg stay at the Red Bull Arena. Chief Executive Oliver Mintzlaff told Sportbuzzer that the club are "immune" to offers for the duo, claiming "that topic is boring."
Keeping their best players and strengthening the squad, like they have done with the signings of Portugal Under-21 star Bruma and RB Salzburg's teenage defender Dayot Upeamecano, is the way to succeed again next season. This is something that is all too clear for Mintzlaff, who wants to ensure there is no change in personnel at the club.
"It's only our second Bundesliga season, our squad's still the youngest and most likely also the most inexperienced," Mintzlaff continued. "Sure, it would be great to start where we left off. It's an advantage that there's no upheaval."
RB Leipzig need to convince Keita and Forsberg that they can achieve their ambitions at the Red Bull Arena. If RB Leipzig are to avoid becoming the new Borussia Dortmund and usurp the German throne from Bayern Munich, they cannot be a selling club.