Premier League
Razak eyeing a move away from Hearts of Oak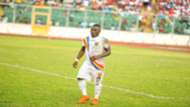 Hearts of Oak winger Patrick Razak has reiterated his desire to leave the club for new challenges ahead of the upcoming season.
The 28-year-old has become a subject of transfer talks, with Guinean side AC Horoya having two separate offers rejected by the Phobians among others.
However, with barely four months left on his current contract, the former Utrecht Academy star is bidding time and hoping for the best.
"My agent has received offers from some clubs who hope to sign me for the new season but as you know, I can't leave now," Razak told Graphic Sports.
"I still remain a player of Hearts of Oak, so I can't leave even if I'm willing to go. However, I hope when my contract ends in November, I will have one of the offers still available so that I can go and seek new prospects elsewhere," he added.
Aside foreign offers, reports in the local media have suggested that rivals Asante Kotoko showed interest in his services before government placed indefinite suspension on Ghana Premier League.
"I have personally received calls from some top people in Kotoko and the offer is good but I can only accept to go to Kotoko if Hearts are willing to release me," he said.
"This is because I don't want my transfer to create issues between the two clubs like it happened previously [when Charles Taylor left Kotoko to Hearts]."
Razak was a member of the Ghana squad that won the 2017 Wafu Cup of Nations.