Manchester United
Rashford: Man Utd have to try harder with top-four challenge under threat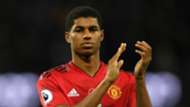 Marcus Rashford acknowledges there is "no secret" to what Manchester United need to do in order to turn their form around, with the Red Devils aware that "if you work hard, you get results".
Jose Mourinho's side are currently on a run of four games without a Premier League win.
Just three points have been taken from meetings with Manchester City, Crystal Palace, Southampton and Arsenal over recent weeks.
United sit eighth in the table as a result and require an immediate improvement against Fulham on Saturday if they are to keep themselves in contention for a top-four finish.
Rashford admits as much, with the England international telling United Review that everybody connected with the club needs to start grafting for one another: "In the position we're in now, when it's difficult and we're not playing our best football, that has to be the thing that you do first and foremost.
"That's what was in my mind: that whatever happens, go out there and give 110 per cent so when you come off the pitch you have no regrets.
"There's no secret, it's just a direct correlation: if you work hard, you get results. That's always the thing I naturally go back to, especially when things aren't going well.
"It's just about hard work and us keeping on grinding out games when we're not playing at our best, and at the same time we're always trying to improve because we want to play our best football and that's the level we have to get to."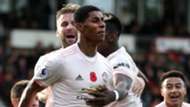 A meeting with rock-bottom Fulham, on home soil at Old Trafford, should present United with an opportunity to start building some momentum.
It is imperative that a positive performance and result is delivered, however, with loyal supporters needing something to shout about heading into the hectic festive period.
"The fans want to see us win as much as we want to win for them," Rashford added.
 "We just need to put the performances together as we have the quality to beat teams, which is easy to say but can be difficult sometimes.
"Right now, we're in one of those periods where it's proving difficult, but it doesn't mean we stop trying to improve or win the games. It just means we have to try harder. And we will keep trying harder."