East Bengal
Quess come on board as East Bengal's investor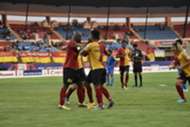 Quess, one of India's leading business services provider, has inked an agreement with Kolkata giants East Bengal. As part of the investment deal, the club will henceforth be known as Quess East Bengal FC Pvt Ltd (QEBFC).
Quess is headquartered in Bangalore with presence across three continents. The company is listed on Bombay Stock Exchange (BSE) and were acquired by Thomas Cook back in 2013.
Kalyan Majumder, the Managing Director of QEBFC, said, "We were contemplating options after our association with UB Group came to an end last month and approached Quess with a partnership proposal. We are happy and excited with the Quess brand and together we are hopeful of building India's best football club.
"The association with Quess is promising and brings a refreshing change for the club and its member and fans with many untapped possibilities. We believe our best is yet to come and we now aim to achieve new landmarks in Indian football."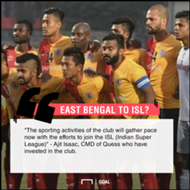 Chairman and Managing Director of Quess, Ajit Isaac said, "As Quess develops from being a services provider to building multiple platforms with a large number of employees and customers, it is necessary that we invest in long-term brand branding initiatives that cut across multiple segments of society.
"The partnership with EBFC provide exactly this and we are excited by the possibility of contributing to the development of world's number one sport –'Football' in India and at the same time to be invested in one of the best sports properties. Sports and business both produce winners when the partnerships are right and the investments are prudent. 
"The sporting activities of the club will gather pace now with the efforts to join the ISL (Indian Super League) as well as to enhance the player base, training capacity and infrastructure required to achieve more sporting trophies."