PSL
Q and A with Cape Town City coach Eric Tinkler ahead of Sundowns clash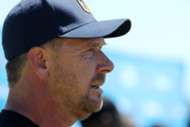 Goal: You have not lost to either Kaizer Chiefs, Orlando Pirates, Mamelodi Sundowns or Wits in the league. You are also picking up points against the less fancied teams….
Tinkler: I think it is really good for our chances, but at the same time I feel there are a couple of results that let us down. We didn't get the result against Free State Stars when we should have, we also didn't get the result against Baroka in the first round when we should have.  So what has that forced us into doing now is - if we want to be serious contenders, we have to beat Sundowns (on Friday). A draw against Sundowns in my mind is not enough.
Goal: Sundowns coach Pitso Mosimane has said he could still win the league without having to defeat City and Wits….
Tinkler: He is in a position to say that when looking at the pace that he has and the amount of games that he has. He can afford to get a draw against us and he is entirely correct with that. But our position is slightly different because we dropped points against the smaller teams.
Goal: Okay...
Tinkler: That puts us in a position where if we really want to consider ourselves as title favourites, we had to beat Baroka and now we had to go and get the results against Sundowns. If we want to see ourselves as champions and the way I measure it is if we beat them, then we can be champions.
Goal: Please go on...
Tinkler: But right now there is no pressure on us because what we achieved already is fantastic. We've set ourselves a target of reaching 46-points and that is the target right now. I've made the players aware of that - so you can go into a game like Sundowns without any fear. You've already got a point in your pocket, but if you want to be title contenders, you got to beat them. That's just the harsh reality.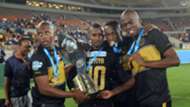 Goal: In terms of playing personnel, you will welcome back Robyn Johannes from injury, while Lehlohonolo Majoro is scoring again, which players do you think will turn it around for you?
Tinkler: Your more experienced players are important in a game of this nature. Particularly, guys like Robyn and Majoro because of the experience that they have. They have been there before, they have experienced it before and what you want is obviously for them to pass that message to the lesser experienced players and so they are important.
Goal: What's the reason behind the team's success thus far?
Tinkler: The players… you know the quality in the squad that we have, we have players that stepped up. They've produced what we know they are capable of producing. Lebo Manyama has been fantastic for us. Aubrey Ngoma has been very good for us, Tshepo Gumede in defence, Robyn Johannes, the strikers all of them has been contributing. Masina (Sibusiso), Judas (Moseamedi), Major, they are all contributing something. It's the team ethic that we have created, irrespective of who comes in, we support him. He scores we celebrate with him. That's what we've created here and it has been good.
Goal: How much influence do you think the Soweto Derby will have on your situation? Is this the time where you call on Pirates to halt Chiefs a bit?
Tinkler: We are not looking at anybody to do us a favour, you can't sit and rely on others. You need to rely on yourself, just look at yourself and go game by game looking to get your results. You don't want to be found in that situation. But the harsh reality is there is going to come a time towards the end of the season when you getting down towards the last five or six games.
Goal: Okay...
Tinkler: And depending on your league position and results, you may have to start relying on others to do the job for you. But again it goes back to what I said at the beginning, we didn't say we were going to win the league. Whereas Sundowns were at liberty to say they were going to win the league. The same thing with Chiefs and Wits. So they have that pressure and we don't. We have already achieved and we are looking to try and finish in that top five and whatever we get after that, that's a bonus.