PSG
Punching fans, Instagram rants – Neymar is out of control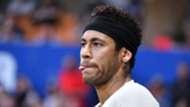 As a man who used Paris Saint-Germain as a stepping stone to superstardom at Barcelona, Ronaldinho has never hid his bemusement at Neymar's decision to move in the opposite direction.
However, the Brazilian has always said, "The important thing is that Neymar is happy."
Unfortunately, Neymar does not appear to be happy.
As he trudged up the steps of the Stade de France on Saturday to collect his runners-up medal at the end of PSG's latest capitulation, in the Coupe de France final against Rennes, the Brazilian petulantly lashed out at a fan who had been filming him and his dejected team-mates on his phone.
"You can't get into a fight with a spectator; you just can't do that," PSG boss Thomas Tuchel admitted afterwards.
Shamefully, Neymar didn't even properly apologise, though, preferring instead to focus on his goalscoring – but ultimately losing – return to the PSG starting XI after three months out through injury.
"Did I act badly?" he mused in an Instagram comment. "Yes. But no-one can stay indifferent...
"Anyone who knows me knows how competitive I am and how much defeat shakes me.
"But losing is part of an athlete's life, makes us grow, makes us think, makes us better.
"Happy to be able to play again, to score again and feel good on the pitch, but the biggest feeling today is one of sadness."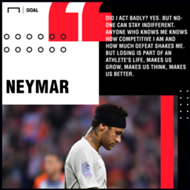 However, that sadness appears to extend far beyond the shootout loss to Rennes and override any feelings of joy at being back on a football field.
Indeed, the clash with the fan was merely the latest in a series of incidents that cast Neymar as a man beset by bitter frustration at how his career is unfolding.
He has even criticised some of PSG's younger players for their lack of respect but what kind of example is he setting by constantly acting like a spoilt child, on and off the field?
Only last week, he was hit with a three-game ban by UEFA for a foul-mouthed Instagram post after PSG's Champions League elimination at the hands of Manchester United.
"That is a disgrace!" Neymar wrote in reference to the controversial penalty decision at the Parc des Princes that decided the tie in the visitors' favour.
"And UEFA still pick four guys who know nothing about football to review the VAR decision in slow motion... that handball simply doesn't exist!
"How do you handball behind your back? Ahh... go f*ck yourselves!"
The outburst was shocking but predictable. After all, Neymar is an emotional, sensitive character and he joined PSG to win the Champions League, but they have yet to make it past the last 16 since he arrived in the summer of 2017 for a world-record €222 million fee.
Losing to Real Madrid was one thing, but being beaten by a dreadful Manchester United side really hurt Neymar.
It raised further questions over the entire PSG project – and primarily their statement signing's future in the French capital.
After all, it wasn't money that lured Neymar to the Parc des Princes, it was the chance to prove himself the best player in the world.
Now he may no longer even be the best player at PSG, though, with Kylian Mbappe speeding towards greatness.
Neymar, by contrast, looks as far away from the Ballon d'Or as at any previous point in his career.
During his time at Barca, it had seemed an inevitability. He flourished alongside Lionel Messi like few others before him or since.
The pair were good friends off the field too; they still are. But the Brazil international knew that he would never be the main man at Camp Nou while his fellow South American was still around.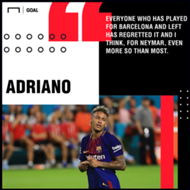 That was hammered home to Neymar after 'La Remontada' – when Barcelona recovered from a 4-0 first-leg deficit to defeat PSG 6-1 on aggregate in the last 16 of the 2016-17 Champions League.
Nobody had played a bigger role in the comeback than Neymar, who scored twice in the dying minutes before then setting up Sergi Roberto for his last-gasp winner.
Yet his face didn't feature on one single front page the following day. Indeed, the abiding image of one of the most remarkable games in football history was of Messi standing with one arm in triumph raised before an admiring Camp Nou crowd.
Neymar was nowhere to be seen. And he felt that the only way to step into the limelight would be to step out of Messi's shadow.
Hence, the bold decision to depart to Paris. However, he has endured little else but frustration in France.
He has been given star treatment at PSG, essentially free to do as he pleases. Even team-mate Marco Verratti says that such is Neymar's talent, when he is sidelined, it is "like missing half the team, as would be the case with Barcelona with Lionel Messi, or Juventus with Cristiano Ronaldo."
Still, while the ability is there, one now wonders whether Neymar will ever reach their level. 
He doesn't have Messi's endearing humility – yet nor does he have Ronaldo's unwavering self-confidence.
He needs to be constantly told how good he is because he is prone to mood swings, as Thiago Motta has acknowledged, while Dani Alves has argued that his compatriot is "still not understood" at PSG.
In Neymar's defence, when he has played, he has been consistently productive, scoring and creating freely.
However, his penchant for showmanship has never endeared him to opponents and now that he is playing at a lower level on a weekly basis, he is indulging himself more than ever before.
The backlash has been brutal.
Against Strasbourg in January, he was repeatedly kicked by the enraged opposition, eventually resulting in Neymar leaving the field in tears – and with a broken bone in his foot.
"Neymar's a great player but we're not there to have fun with him," Strasbourg's Anthony Goncalves unapologetically declared. "We respond with our weapons and we have colours to defend.
"We're not here to joke around, so he must not come and cry afterwards."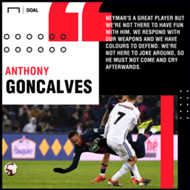 The agricultural nature of the defending in Ligue 1 is taking its toll, both physically – he has missed 50 of PSG's 106 competitive matches since his arrival two years ago – and mentally.
According to reports in Spain, he has repeatedly complained about the brutal fouls he is receiving in France to his remaining friends at Camp Nou.
Former team-mate Adriano has even gone so far as to claim that his fellow Brazilian wants to go 'home'.
"I spoke with Neymar three weeks ago," he revealed last month.
"Everyone who has played for Barcelona and left has regretted it and I think, for him, even more so than most."
Sadly, there appears to be little chance of Neymar returning to Barcelona, particularly with club president Josep Maria Bartomeu acting like a jilted lover by claiming that he is much happier with his new man.
"[Ousmane] Dembele's level is better now than Neymar's," he recently insisted. "He's a much better player than Neymar."
That is clearly untrue. In Neymar, we are talking about arguably the second-most naturally gifted player in the world after Messi.
What is true, though, is that Dembele is in a far better place right now than Neymar.
In every sense.
Admirably, he wanted to get out of his comfort zone at Barcelona. But sadly, now he just looks out of control at PSG.