African All Stars
PSG didn't appreciate my worth, claims new Tottenham signing Serge Aurier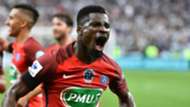 Serge Aurier believes Paris Saint Germain did not value his performances despite being the 'most influential defender' in the French topflight since 2013.
Tottenham Hotspurs paid £23 million for the Ivorian right back - who has had a controversial history and had to wait for police clearance before completing his transfer.
But the Ivory Coast international said the Parisians did not appreciate his value on the pitch.
"I wanted a new life because PSG didn't respect my true worth. They dwelt on other matters besides football," Aurier told the Sun.
"Statistically speaking, I am the most influential defender in Ligue 1 between 2013 and now. I have also won nine trophies with PSG.
"There are more striking things about my career than what happened off the field, but this is what they preferred to linger over," he continued.
"I feel free now. PSG offered me a new three-year deal, but I have left them for a new adventure. I turned them down for a number of reasons. I want to discover a new way of life.
"I got on well with everyone at the club — bosses, players, coaches and fans — and the proof comes from the fact they wanted to keep me. But I had to think of myself. It is a personal decision," he concluded.