African All Stars
Preston revels in Jericho FC's comeback win against A.T Football Academy #2017LSFACup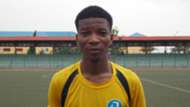 Following his awe-inspiring performance in his side's win over A.T Football Academy on Wednesday, Uwa Preston is delighted with Jericho FC's progress to the next stage of the Lagos State FA Cup.
Jericho were on the brink of crashing out of the competition after they fell back to an early first half goal from A.T, but the intervention of Preston from the bench saw luck smile on them.
With few minutes to the end of regulation time, the winger scored an equaliser before summoning the courage to keep them in the lead in penalty shootouts, which they eventually won 5-4.
"I feel very happy because we always train together we do everything together and I have love for the team that's why I came In and do my work as an attacker," Preston told Goal.
"Sometimes coaches see better and I don't usually play from the bench but the way I came in the spirit is in me that I have to do something done so that's why when the goal wasn't coming I just keep going and when the chance came I just put it past the goalkeeper.
"My coach me to go inside and do what I do best. We don't want fancy goal just get a goal.
"They did well because they are a team we don't know before. Everybody knows Barcelona but for us we have to meet new teams everyday.
"This is also our first time in the FA Cup and we have to make a bold statement," he added.
On the pressure he felt taking the important spot kick, the winger said: "The spirit was in us that we have to win the penalties. Initially I wasn't listed to take the penalties but when I saw the reaction of my 'keeper I just had to stand up and do the job.
"So we are have to get to the next stage, and the next stage again where people will now see us and now scout us out that we are interested in this team," he concluded.